January
More than 700 Civil War enthusiasts reenacted the Battle at Fort Fisher Jan. 17-18. North Carolina Gov. Pat McCrory attended the keynote address given by National Park Service Chief Historian Ed Bearss.
---
February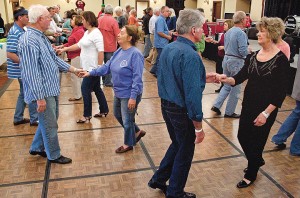 Hundreds of swing dancers gathered at the Wrightsville Beach Holiday Inn Resort for the fourth annual East Coast Shag Classic Jan. 29 through Feb. 1. Event proceeds benefited Women of Hope, a nonprofit organization that supports female cancer patients.
Theater students at the University of North Carolina Wilmington performed "Hamlet" on the mainstage theater of the university's Cultural Arts Building Feb. 19-22 and Feb. 26 to March 1.
---
March
Grammy-nominated vocalist Nnena Freelon and her daughter, visual artist Maya Freelon Asante, and choreographer Kariamu Welsh joined forces to create "The Clothesline Muse," a multi-media theater project that emphasizes the clothesline's role in women's history. Prior to their performance on Saturday, March 28, Freelon and Asante completed a 10-day residency at Williston Middle School.
---
April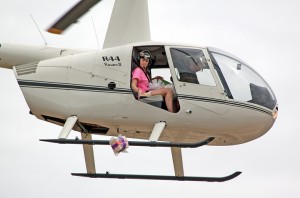 Wilmington Academy of Arts and Sciences teacher Lisa Giacomelli had her middle school students work in groups of four to create contraptions that would allow a raw chicken egg to survive a 150-foot fall. On Saturday, April 11, the students gathered in a field off of Burnt Mill Drive to watch their teacher ascend into the sky in a helicopter to drop their final projects to earth. Eleven of the 15 eggs survived the fall.
The second annual Print Big! Steamroller Print Festival took place at the University of North Carolina Wilmington's Cultural Arts Building on Saturday, April 18. Proceeds supported the Full Belly Project, a nonprofit organization that provides agricultural devices to communities in developing countries.
---
May
For the 26th annual River to Sea Bike Ride, more than 200 cyclists gathered around the 100 block of North Front Street on Saturday, May 2. The ride is a 20-mile roundabout trip that takes bikers from downtown Wilmington's Riverfront Park to Wrightsville Beach and back again.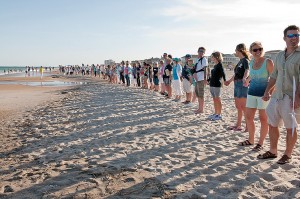 During Hands Across the Sand, environmental activists joined hands on Wrightsville Beach near Johnnie Mercer's Pier at Public Beach Access No. 16 to peacefully protest offshore drilling for oil and coal on Saturday, May 16.
During the fourth annual Canines and Couture Fashion Show on Thursday, May 14 at Lumina Station, dogs and their human companions strutted down the runway to spread awareness about the dangers of puppy mills.
Participants of the academically/intellectually gifted program at Wrightsville Beach School presented research projects to the school and community Friday, May 22. The cafeteria was packed full of third, fourth and fifth graders, along with carefully designed and lettered colorful tri-fold posters.
---
June
A June 11 Masonboro.org event raised $6,500 for the organization's preservation and conservation mission. Bluegrass trio Masonboro Sound played under a white tent as 160 adults and children enjoyed a buffet-style dinner at Bradley Creek Marina.
The Seventh Annual Bow Wow Luau and Cat's Meow featured colorful leis and the melodic rhythm of steel drums at Banks Channel Pub & Grille on Saturday, June 13. The event raises funds and awareness for Animal Avengers and other local animal rescue agencies.
---
July
Ocean enthusiasts attended the fourth annual Surfalorus Beach and Board Expo on the lawn of Tidal Creek Co-op on Saturday, July 11. The four-hour event was a partnership between Tidal Creek, Cucalorus Film Festival and Salty at Heart literary journal that celebrated ocean culture and promoted environmental awareness.
Blind surfer Derek Rabelo joined visually impaired kids learning to surf during Indo Jax Surf Charities camp at Wrightsville Beach on Friday, July 17. Rabelo gained worldwide recognition while surfing the biggest waves of Hawaii.
---
August
The fourth annual Pipeline to a Cure East gala raised more money on Saturday, Aug. 8, than in any previous year, amassing more than $158,000 for the Cystic Fibrosis Foundation.
Rick Civelli organized Aloha for Alopecia, a day-long surfing event, on Friday, Aug. 14. Children from all over the United States who have alopecia areata, a condition that causes the body's immune system to attack hair follicles, flocked to Topsail Beach for the four-day camp.
The Wilmington Family YMCA opened a new facility seven months after a fire ripped through its second floor, forcing the building to close. Members and staff reunited Sunday, Aug. 30, for the grand opening of the new facility down the road called the Express Y.
Several guests at the Aug. 30 Lumina Daze originally experienced Lumina Pavilion during the 25,000-square-foot dance hall's heyday in the early-to-mid-20th century. The event raised funds for the Wrightsville Beach Museum of History.
---
September
Two hundred and twenty-eight swimmers converged at Wrightsville Beach on Saturday, Sept. 12, for an ocean race between Johnnie Mercer's Pier and Crystal Pier. The 11th edition of the annual 1.7-mile Pier-2-Pier swim was officially renamed in memory of Ryan Alea Young, a University of North Carolina Wilmington swimmer who died in 2009 during her senior year as a Seahawk.
Wrightsville Beach Park was filled with a colorful mix of more than 100 antique European automobiles Saturday, Sept. 26, as the British Motor Club of the Cape Fear hosted its 17th annual Brits at the Beach car show.
Tennis enthusiasts flocked to the Country Club of Landfall to watch world-renowned tennis players engage in competitive exhibition matches Friday, Sept. 18, and Saturday, Sept. 19. The two-day event raised more than $20,000 for the Landfall Foundation, a volunteer-run organization that distributes funds to local nonprofits that support health, education and arts initiatives.
---
October
The community celebrated the grand opening gala at the Cape Fear Community College Humanities and Fine Arts Center on Saturday, Oct. 3. Famed singer and actress Liza Minnelli performed with the North Carolina Symphony to provide the inaugural performance.
Hundreds of guests gathered for the Taste of Wrightsville Beach under white tents near the MarineMax docks to sample cuisine from 17 Wrightsville Beach restaurants whose chefs were competing for votes from both attendees and a panel of five judges. Ceviche's, a Panamanian restaurant with a dining room that only seats 30 people, captured the top two prizes.
Seven PPD Heroes completed the half and full Beach2Battleship ironman triathlon races on Saturday, Oct. 17.
Wilmington teenager Alex Brigantti received a life-saving kidney transplant early in the morning of Wednesday, Oct. 7, at the University of North Carolina Chapel Hill's pediatric nephrology unit.
---
November
The Landfall Foundation awarded annual grants to 78 local nonprofits Nov. 5, including the Cucalorus Film Festival, Cape Fear Clinic and the Friends School of Wilmington.
About 30 former Wrightsville Beach lifeguards from the 1950s, '60s, '70s and '80s gathered for a reunion Nov. 14. They took a group photo at the Wrightsville Beach Museum of History and then met at Sweet 'n Savory Café to reminisce about their favorite memories on and off the job.
---
December
Around 1,000 guests attended the 11th Annual Hope from Helen Surf Silent Auction Dec. 4 at the Blockade Runner Beach Resort. The silent auction raised $39,907 to support a variety of causes, including health, education, animal welfare, the environment and individuals and families in need.
Five hundred and fourteen runners raced in the Wrightsville Beach Museum of History's annual Jingle Bell 5K on Dec. 12 around the John Nesbitt Loop. A 19-person team from MCS Noble Middle School won best overall team costume for dressing up as the 12 Days of Christmas.