Wrightsville Beach police charged two men with rape, kidnapping, assault and drug possession on Sunday morning after two women sought treatment at the hospital following an early morning party where police said they found cocaine.
Police arrested Genell Stephenson, 33, and Harvey Fred Williams, 35, on Sunday, Nov. 26 at 5:22 a.m. at a party in a house on Causeway Drive after receiving a phone call reporting the alleged crime. Wrightsville Beach Police Chief Dan House said that Stephenson and Williams matched the description given by the caller, who could not be identified to protect the identity of the women.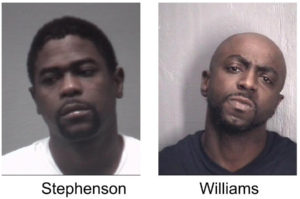 A nurse at New Hanover Regional Medical Center also called to report the alleged crime, and House said that Wrightsville Beach detectives interviewed the two women at the hospital.
According to the New Hanover County Sheriff's Office, both were charged with two counts each of second-degree rape, second-degree kidnapping, assault on a female, crimes against nature and interfering in emergency communication, and one count of possession of cocaine and drug paraphernalia. Stephenson was also charged with possession of a firearm by a felon, carrying a concealed weapon and possession of cocaine with intent to sell or deliver.  Police charged Williams with a parole violation.
Online records showed that on Wednesday evening, both men were still in jail, with Williams bond set at $1.1 million and Stephenson's set at $550,000.
House said that the incident started in Wilmington and that the women were transported to the Wrightsville Beach location with the men by car.
A source familiar with the incident said that the women told police that they had no recollection for more than three hours, including getting into the car in Wilmington, with one being forced to drink alcohol upon regaining memory in the car at the Causeway Drive house. The two women eventually got away from the suspects, and were transported to the hospital, the source said. Both House and the source said the women did not know the two suspects before the alleged attack.
After the report was called in, House said police found the two suspects at a house party on Causeway Drive that had several people in attendance.
The charges of interfering in emergency communication came after the women told police that the two men prevented them from seeking emergency assistance, House said.