After suffering a broken wing and a blow to the head, a great horned owl rescued in Wrightsville Beach last week will have a long road to recovery, but could be a good candidate for educational display at a local bird clinic.
The injured owl was found and secured by local residents near the intersection of North Lumina Avenue and Columbia Street before the New Hanover County Sheriff's Animal Services Unit transported the bird to Skywatch Bird Rescue in Castle Hayne. Before transporting the bird early Wednesday, Feb. 21, the animal services unit deputy responding to the call was hit by another car in Wrightsville Beach, resulting in DWI charges for a Leland man, while three of his passengers were transported to the hospital. The deputy responding to the bird call was not injured and a supervisor with the unit came to assist with the owl, which had been discovered before the car wreck, and was then transported to sanctuary.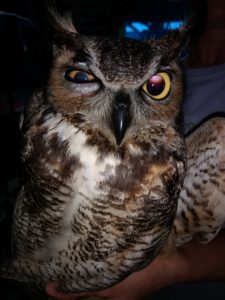 "It's too soon to tell," said Amelia Mason, director of Skywatch Bird Rescue."I'm leaning towards her never being releasable. Her freedom days are over, in my opinion, and we're going to focus on rehabilitation."
Besides a badly broken wing, Mason said that the owl also had damage near the eye, prompting concerns that the owl would lose vision in one of its eyes. She believed the bird was hit by a car, which is a common problem for owls. She also believes the bird is a young female, based on its size.
"Right now, she's day by day. She may not survive the rehabilitation, which can be very difficult for owls and put a lot of trauma on its systems and organs," Mason said.  "But she's on antibiotics and has supportive care. She's already looking stronger and better than she has in the entire time she's been here."
The goal is to avoid euthanasia, but fortunately, the owl's temperament may make it a good candidate for survival. Most raptors will suffer in captivity and there are few sanctuaries that have room for injured owls.
However, if she can make it through rehabilitation, she could become a permanent resident of Skywatch. The sanctuary already has one great horned owl, a male, but to keep two of the birds, Mason said they would need to build a cage suitable for the creatures.
To fund the project, Mason said they group would consider a fundraiser to construct the cage, which would have to be designed out of special materials. While the group has builders ready to donate the time, the group would still need to buy the materials.
A Wrightsville Beach resident who found and cared for the owl said he was surprised at how docile the bird was.
After learning from others about the bird, Wrightsville Beach resident Donald Lee White, Sr. said he went to check on it, and even tried to clear a path to let the bird run and take off.
"It tried to fly but it couldn't get more than a foot and a half off of the ground," he said.
The bird tried to hide near a fence, but White said he was worried it would get caught by a cat, so he placed his shirt over its eyes and placed it in a box.
"I laid the shirt over his body and face and picked it up slowly, holding the wings close to the body. It wasn't happy for a few seconds, but it calmed right down," White said. "I knew that if we kept hit in the dark, it wouldn't be nervous."
If the great horned owl does survive the rehabilitation, White said he would donate $100 to the building of the cage.
For more information about Skywatch Bird Rescue, visit www.skywatchbirdrescue.org/.