With the goal of an improved visitor experience to the Salisbury Street public access, the Town of Wrightsville Beach will pursue a series of grants totaling more than $1.1 million to construct a park by Johnnie Mercer's Pier, add new pedestrian walkways to the parking lot and plant new trees and greenspace.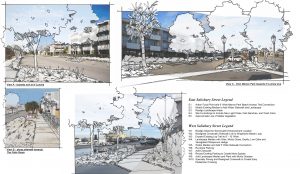 Known as "East Salisbury Ocean Access Park," the project would add new benches, light poles, trash cans and landscaping to both East and West Salisbury street, with the project's centerpiece being the tentatively titled "Mercer Park," an expansion of the existing bathrooms and pavilion next to Johnnie Mercer's Pier.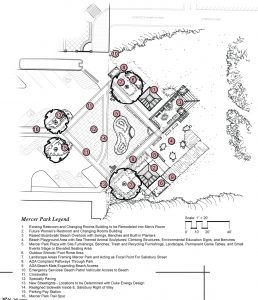 On March 8, the Wrightsville Beach Board of Aldermen directed town manager Tim Owens to purse two grants to fund the project, including the North Carolina Parks and Recreation Trust Fund Grant for $400,000 and the Public Beach and Coastal Waterfront Access Grant, funded through the Coastal Area Management Act, for $250,000. The town would be required to match the parks grant fully and provide a $62,500 match on the water access grant, requiring a total $462,500 local match for the project.
A preliminary rendering of the project showed added landscaping to the parking lots on both East and West Salisbury Street, leading to the new park at the entrance to the beach. The park would expand the bathroom facilities that are currently there, with the existing facilities to be modeled into the park's men's room, with a women's restroom and changing room to be constructed on the park's south end.
The park would also feature a beach playground area with sculptures, swings and climbing structures for children. There would also be a raised boardwalk and bench overlooking the ocean. The park would also provide beach mats that would expand access to the beach for those in wheelchairs or with disabilities. The park would be framed by landscaping areas, the plans said.
Owens told the board that the first deadline for grant application was April 6. Additionally, Mayor Bill Blair said that the county could also offer funding to help the town qualify for the grants.
"It's a big project, we have a lot of work to do," Blair said.