By Jesse Gawlik
Ocean Stinger Charters
Inshore: We are catching Spanish Mackerel and Blue Fish in the range of beach front to 50 ft of water has been producing solid numbers of fish for us. We have been catching a few 5 lbs+ Spanish the last couple days in 65 ft of water. Early morning and evening is the best time. Pay close attention to the tides. Fishing the rising tides has been good the last few days. Trolling using #1 planners and Clarkspoons (sliver/pink/chartreuse rigged on long (40ft) lfloro carbon leaders (20lbs). Set your lines way back from the boat. King Mackerel we have been catching in the 15-25 miles off Wrightsville Beach. Fisherman can find kings by searching for suspended bait marks and fishing over ledges and drop offs. Running Drone spoons on #8 planners with 50 ft 50lbs leaders at (5-7 knots)
Gulfstream: We are catching solid numbers of, Blackfin Tuna and Mahi in 40 to 60 fathoms range. Sailfish have been in the same range. There has been a good mixed layer depth, and temp break in the 30 fathom area or 55 miles off the beach. This can change daily, so you need to plan your fishing trip before you leave the dock. Trolling small purple/white/black and pink/white and lime green/white skirt rigs has been producing solid Blackfin and Mahi catches. Early morning and early evening has been prime time to fish.
Capt. Jesse Gawlik of Ocean Stinger Fishing Charters op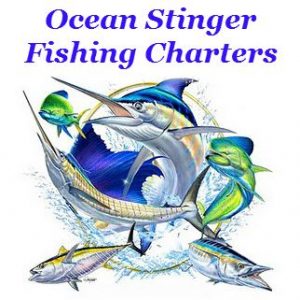 erates out of the Bridge Tender Marina at 1418 Airlie Rd. in Wilmington, just before the Wrightsville Beach drawbridge.
Contact him at 910-777-9734 or oceanstingercharters@gmail.com.