By Terry Lane
Staff Writer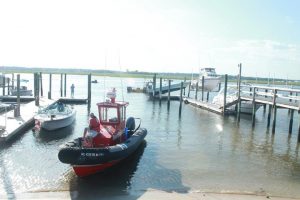 North Carolina Wildlife Resource offices are investigating a boat crash in Wrightsville Beach's Banks Channel that occurred on Monday, June 4 and sent one boat onto a dock.
Wrightsville Beach police and state resource officers responded to the area of 600 Waynick Blvd. after the 5 p.m. crash. No citations were issued, but a wildlife resources officer said the case was still under investigation.
The officer said that a 22-foot boat and a boat larger than 30 feet collided in Banks Channel. A woman who was driving the 22-foot boat ended up in the water, with the boat striking a pylon and launching onto the dock. The officer said it was unclear if the woman abandoned the boat to avoid the collision or if she was knocked off the boat during the collision.
The owner of the dock said she often sits on the end of the dock in the afternoon and was lucky to not be there when the crash occurred.
No one was injured during the crash.