The weather is making fishing very difficult both offshore and nearshore, but we are still catching fish. It's just a little slower than normal due to the weather and the poor water quality, but a shift in wind direction should occur on Thursday. The winds will be out of the northeast and blow blue water back into Wrightsville Beach, which will make fishing good again. I have been fishing between 24 miles and 29 miles, mostly around 23-mile rock and areas to the southwest. I have been slow drawing normal speed, falling one planer rod rigged with a No. 3 planer and a small ballyhoo on a pink headed crystal and pink skirted sea witch. (It's one of the many skirt rigs I tie myself.). Also running a long outrigger and short outrigger on the starboard side. The long outrigger has a blue crystal pink islander, and inside outrigger as a pink headed crystal sea witch. Portside we run the plane rod and one outrigger, preferably long. That is a blue and crystal islander. We have been catching king mackerel in the same area for the past two days in the 11-mile range, recently boating three at 48-plus inches. We're also catching keeper kings from 18 miles all the way to 35 miles. To find the blue clean water to catch mahi, we need to be able to look at the current charts and read which way the ocean is laying. Spanish mackerel catches have been on and off within 5 miles of the beach.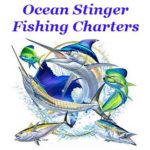 Captain Jesse Gawlik of Ocean Stinger Fishing Charters operates out of the Bridge Tender Marina at 1418 Airlie Rd. in Wilmington, just before the drawbridge.
Contact him at 910-777-9734 or oceanstingercharters@gmail.com.