Two Wilmington dermatology centers located within the Mayfaire community are expanding and adding services to fine-tune their business models.
Dermatology Associates in Mayfaire Community Center has added the aesthetician services of Nicole Bunch with two new aesthetic dermatology suites within the center's third-floor offices along Parker Farm Road.
With six physicians in the practice, Bunch said the move to include aesthetic dermatology procedures like chemical peels, facials and microdermabrasion was a natural progression for Dermatology Associates.
"They wanted to have a one-stop shop for the aesthetic procedures," Bunch said. "It is a newer trend in recent years and it is now catching on. Patients coming in to do their skin cancer checks might also want some Botox or a facial to enhance everything and the need was there."
When Dermatology Associates acquired the offices it included space for the potential expansion, and Bunch said the center would now be able to handle any kind of medical or aesthetic dermatology procedure.
Specializing in medical-grade chemical peels and microdermabrasion, Bunch said more patients in the Baby Boomer age range have begun to seek those types of treatments because of a lack of awareness about sunscreen when they were younger.
Bunch said the goal of the grand opening ceremony for the new aesthetics department Wednesday, Aug. 13, was to invite the public to the new space and reinforce the benefits of sunscreen during the last weeks of the summer season.
"Our message is to go out and enjoy this beautiful beach town we live in, but just be safe about it," she said.
Wilmington Dermatology Center expands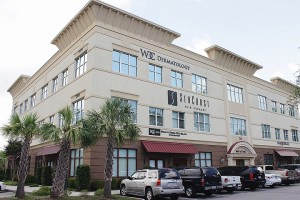 A 4,000-square-foot expansion is also coming to Wilmington Dermatology Center, located just north of Mayfaire at Howe Creek Landing.
Slated to finish in September, Wilmington Dermatology Center business director Ed George said the addition would provide more space needed to accommodate a new physicians assistant, more space for future clinical trial storage and improvements to clinical amenities.
Wilmington Dermatology Center's aesthetic dermatology patients will see newly configured space just for that department.
"We are changing some things up a little bit to give some of those patients a little bit more of a spa treatment where they can go in through a different entrance," George said. "There are some dermatology centers that are very cosmetic focused and there are some that just do medical dermatology and we have evolved to do both and the struggle has been how to cater to both those groups in the same space."
With the additional space, George said there would be more room for all of the different facets of the center's services.
Wilmington Dermatology Center will continue operations as normal during the remodeling process.
email [email protected]