Each year a handful of families around the lower Cape Fear region open their homes to foreign exchange students from around the world through organizations like International Cultural Exchange Services.
George Barley, ICES local coordinator for the tri-county area of New Hanover, Brunswick and Pender counties, said he is busiest around January and July trying to place new students with the dream of experiencing life in the United States.
Two young girls Barley helped to bring to southeastern North Carolina are 15-year-old Ratima Jamjod from Bangkok, Thailand, and 17-year-old Victoria Strand from Trondheim, Norway.
Hosted by Landfall residents AJ and Courtney Aliah, Strand said she knew she wanted to spend a year in the United States after living in England for a few years. However, it was late in the exchange student process that Strand actually heard she would be coming to America. Because of that quick turnaround she did not overthink the move, Strand said.
"When I was in Norway I knew that I was coming here five days before I left," Strand said. "I got the message, packed and left, so I didn't have enough time to think about it too much."
Courtney Aliah said this is the first time her family has hosted a foreign exchange student but she had experience with a similar situation in hiring an au pair for her three children.
"We had an au pair so we knew what we were getting into as far as sharing space," Aliah said. "Fortunately we knew how to deal with that because it is like a guest that doesn't leave. There is an adjustment period where she had to get used to our quirks and we had to get used to hers . . . but she fit right in the mix."
Strand immediately connected with the Aliah's oldest daughter, 10-year-old Marley. The two especially bonded through a shared love of music and have even begun recording songs together at Low Tide Studios.
Now, when asked what she will do when Strand has to move home in June, Marley only exclaimed, "I don't know!"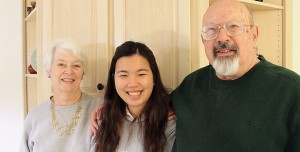 That feeling of attachment is common among host families, Barley said, and is evident at the home of Richard and Marsha Roush with Ratima Jamjod, or Tina, as the Roushes call her.
When Barley first asked the couple if they would be interested in hosting a student, Richard Roush said they were hesitant because of their ages.
"At first we said no, we are both in our late 70s, had been there, done that, and we just thought we were too old for this," Roush said. "[Barley] asked us to just be a welcome family for three months. … But then we met Tina and her family and we decided that wouldn't be fair to her because she would have to go to another family and probably another school after the three months."
Now, five months into hosting Jamjod, Roush said they also do not know what they are going to do when she leaves.
"We were concerned if we would be able to deal with a teenager and that can be a tough age but none of that shows up for her," he said. "She just fit into this household like she was born into it and she has really become like our own daughter."
Like Strand, Jamjod spent time abroad in England before deciding to spend a whole school year away from her family and home.
"I tried to find a goal for my future so I decided to be here and maybe I will find something here," Jamjod said. "I didn't want to wish for anything because I didn't want to be disappointed but it is more than I expected."
One of the things Jamjod particularly likes about American culture is the amount of cheese varieties available.
"There are so many kinds of cheeses here and in Thailand there is really only one kind of cheese," she said.
Adjusting to life in an American high school can be difficult for any teenager, let alone one from halfway around the world. However, social media and video conferencing services like Skype make it easier for students like Jamjod and Strand to keep in touch with their parents regularly.
After seeing how easy it is for Strand to communicate with her parents in Norway, Aliah said she would feel more comfortable with her own children studying abroad.
"It is less of a shock than even 10 years ago and it is now much easier for the parents because you can Skype or they can just keep up with you through Facebook or Instagram," Aliah said. "As a parent, if Marley ever wants to go, we wouldn't feel as separated."
Barley said he is always searching for more families to serve as hosts for exchange students and he has thoroughly enjoyed his experiences as a host as well.
"Most of these kids have dreamed of doing this their whole lives and seeing that dream come true gives me a lot of pleasure," he said. "You form an attachment and their going home is the hardest part of hosting."
For more information about ICES and hosting an exchange student, visit www.icesusa.org or email Barley at [email protected]
email cole @luminanews.com