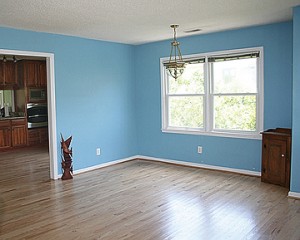 After their Palmetto Drive house sat on the market for months with no offers, the Woodsons knew they had to do something different to find the right buyer.
Plenty of buyers were coming to see the house, Robin Woodson said, but they left without making an offer. To help potential buyers connect to the house, she and her husband Ted decided to make one last investment in the house by staging it, bringing Just Perfect! Home Staging on board.
Woodson said she was shocked by the difference it made to bring in fresh colors and décor and address details as small as the different-colored light fixtures in each room.
"We were absolutely floored. It was amazing. They didn't leave out one detail," Woodson said. "It made our house look comfortable and inviting to clients that were walking in. You could really picture that beach life with the type of décor and everything that they used. It made it all come together."
Buyers noticed, too, and within 30 days, the Woodsons were offered their asking price and quickly wrapped up the sale — a result Just Perfect! owner Jessica Pirone said is the most rewarding part of her job.
"I love helping someone make their house look pretty, but I love it even more to help someone achieve something that might have been harder without us," Pirone said.
Some real estate agents might hesitate to suggest that sellers invest more in their property while trying to sell it, but Realtor and broker with Coldwell Banker Sea Coast Advantage Angela Batchelor said staging is an important tool she offers to clients who are selling a home.
"It's our obligation to tell clients what can improve their chances of selling and what can improve the odds of getting more money for their home. If they choose to do it, that's their decision," Batchelor said.
To her clients, she explains staging is not about decorating, but about marketing, and a recommendation to stage a home does not unfavorably reflect a homeowner's personal taste.
"Staging is not about decorating a home and making it look beautiful. It's about focusing on the features that make the home unique and that are going to be appealing to a buyer," Batchelor said. "That's why I think staging is so important, and why I want to talk to my clients about it. Because the way you live in a home and the way you market a home to sell it are very different things."
Batchelor said she refers clients interested in staging to Just Perfect! Whether a house is vacant or occupied, brand new or hundreds of years old, beautifully decorated or in disrepair, Pirone and her team work to find and accentuate its best features by rearranging furniture and décor already in the house and supplementing it with a stockpile of 20 homes worth of furniture and accessories
"They think out of the box. They look at all the features a home has. If it has beautiful wainscoting, or it has a gorgeous chandelier or tall ceilings, they're going to do the things that make you realize and recognize those things when you walk into the home," Batchelor said.
Professional stagers also identify and eliminate any features of the home that might deter buyers, especially personal touches that prevent potential buyers from envisioning themselves in the home.
After real estate agents work to attract potential buyers, a staged house is more likely to engage the buyer and secure a better offer in less time, said Sherri Pickard, Wilmington Regional Association of Realtors President.
"You want to catch the eye of a potential buyer. You want them to want to see the house. Once they're in the house, you want it to feel as good to them as it can feel. It's far less expensive, at the end of the day, to do all of that because you will attract a higher offer price," Pickard said. "Not maybe. Not might. You will attract a higher offer price."
Batchelor said her clients enjoy an average 99.2 percent list to sales price ratio for homes sold using a five-step process she recommends, which includes staging, compared to the market-wide average of 94 or 95 percent.
email [email protected]