A tent revival the likes of which the city hasn't seen in a very long time aims to light a fire in the spirit of Wilmington and call on higher power to help solve racial and social problems.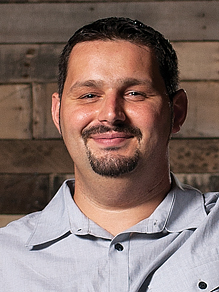 "Ignite Wilmington: 10 Days of Uniting the Port City with Jesus at the Center" will feature round-the-clock worship and music Sept. 13-23 under a tent beside Legion Stadium on the grounds of the old National Guard Armory on Carolina Beach Road. Organizer/evangelist Michael Thornton said the goal is to bring people together to bridge differences and help heal societal ills in Wilmington by lifting up Jesus.
"I believe [during] these 10 days God will begin to move to shift our city to where there is more focus on each other rather than ourselves," Thornton said.
Thornton and his wife, Amber, are the cofounders of Ignite Ministries. He is also outreach pastor at Global River Church, but Ignite Wilmington is not a work of that particular church.
The young pastor nurtured the idea of bringing unrestrained, come one, come all worship to a new generation of followers while researching a book about some of North Carolina's storied tent revivals of yesteryear. During his research for "Fire in the Carolinas," published in 2014, he discovered he is related to one of the evangelists he featured in the book, G.B. Cashwell.
Ignite Wilmington is only the latest evangelical event organized by Thornton's Ignite Ministry. Similar events in Dunn and Goldsboro attracted crowds and brought people together in worship. Locally, many churches representing different denominations and racial makeup are contributing to the ambitious effort.
A huge, 500-person tent will rise Saturday in preparation for 10 days of worship and praise beginning Sunday night with a select few speakers, worship music, dancing and personal testimony that will fill the overnight hours.
During the 10 days, ministers representing multiple denominations will offer prayers for Wilmington and for help with issues such as drug addiction, crime and poverty.
Thornton said the revival will feed body as well as soul. Someone donated a whole pig, and the opening night will feature a free barbecue dinner. In place of the Gospels' two fishes, a Jacksonville church will bring 1,000 pounds of freshly caught croaker, flounder, spot and mullet for a Saturday night fish fry Sept. 19. The group even has its own hush puppy fryer, which takes care of the biblical loaves.
The fare the rest of the nights will be simple — hotdogs mostly, or volunteers will be cooking whatever is donated. Thornton said there is something about eating together that helps connect people spiritually.
In addition to spiritually oriented speakers, a number of public officials are expected to be in attendance during the event, including U.S. Rep. David Rouzer, Wilmington Mayor Bill Saffo.
Organizing such a large event takes a lot of resources as well as volunteers. Thornton said faith is paying the bills. Donations of equipment, food and supplies have rolled in, while an anonymous benefactor gave $9,000 toward housing and paying other expenses for visiting speakers and groups of young people who will help lead the round-the-clock worship music.
Because part of the focus is on bridging differences, individual churches will not hang their banners. The only banners that will fly sum up the focus of the 10-day event, Thornton said: "Just Jesus."
There will be no passing of the collection plate, either, although "love boxes" placed near tent openings will allow those who are so moved to leave an offering.
Ignite Wilmington begins at 7 p.m. Sunday and ends at 9 p.m. Sept. 23 at the tent on the armory property, 2221 Carolina Beach Road.
For more information on Ignite Wilmington, see the Ignite Wilmington Facebook page or visit fireinthecarolinas.org. For information on Pastor Michael Thornton, see The Prodigal Son, Wrightsville Beach Magazine, May 2015, pages 24-27.
email [email protected]