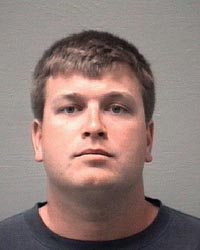 A federal judge has ruled in favor of Wrightsville Beach and two of the town's police officers accused of excessive force and other civil rights violations by the son of Mayor Pro Tem Darryl Mills.
Adam Mills was arrested on suspicion of driving while impaired Nov. 8, 2011 -—- the same night his father was first elected to the Wrightsville Beach Board of Aldermen. The younger Mills was injured during a struggle with officers J. Rich and J. McCubbins while he was being booked, requiring medical treatment.
In a summary judgment signed Monday, U.S. District Judge Terrence Boyle ruled that the officers' actions were not unreasonable and did not violate Adam Mills' 14th Amendment rights. In a summary judgment, one party asks the judge to rule that no material issues of fact remain and thus, there is no need for a trial. If the judge agrees, he issues a ruling in favor of the party that made the motion.
Most of the actions by the two officers were caught on the police department surveillance cameras, and Boyle referred to these several times in his 12-page order. The videos, which were posted on the Lumina News website and Facebook page in 2013, showed Adam Mills being uncooperative, verbally combative and failing to obey orders to stand. At one point Rich tried to physically stand Mills up. A struggle ensued, and the two men moved off camera briefly.
An exterior camera captured what appeared to be Mills open an exterior door twice, as his foot is partially visible outside the open door. Officer McCubbins can be seen exiting a police cruiser near the same back door and rushing up the stairs to the room. Entering the room, McCubbins landed what the judge characterized as "a single closed-fist punch." At that point both officers pushed Mills to the floor and held him there.
In his 2013 lawsuit, Mills stated that the officers' actions went well beyond reasonable efforts to restrain him. He was treated at New Hanover Regional Medical Center for a broken nose and a fracture to the medial orbital wall near his eye.
Boyle found that Mills' insults and failure to cooperate did not justify use of potentially deadly force, but he also ruled that evidence supported the officers' claims that they did not use excessive force.
"The court finds that, even when viewing the facts in the light most favorable to Mills, the actions of Rich and McCubbins were objectively reasonable and they are entitled to qualified immunity," Boyle wrote. Qualified immunity protects police from liability "so long as they could reasonably believe that their conduct does not violate clearly established law," the judge wrote.
A search of the N.C. Department of Public Safety offender database indicates that Mills was convicted of the DWI charge on Nov. 5, 2012, and received a suspended sentence.
Months before the lawsuit was filed, Mills and his lawyer, Katherine Lewis Parker of Wilmington, sought a $200,000 settlement and an agreement by the town to improve training and institute policies "to ensure that this type of incident never occurs again."
The town was represented by Wilmington attorneys Clay Collier and Brian Edes.
"We appreciate Judge Boyle's thorough and thoughtful review and consideration of all of the facts established by the record in this case," Collier said in an email. "… From the beginning, the officers maintained, and the department's own investigation determined, that they appropriately employed their training and experience to reasonably respond to a difficult situation.  The ruling of the federal District Court affirms that position."
Wrightsville Beach Mayor Bill Blair said Wednesday the incident was "an unfortunate chapter" that has "come to a conclusion."
But the case is not closed. Parker vowed to "continue this fight" and to push for better training and policies on conduct for Wrightsville Beach police officers.
"We were quite disappointed by Judge Boyle's decision," Parker said in a Tuesday, Sept. 1 email. "It was wrongly decided; and yes, we absolutely plan to appeal to the Fourth Circuit Court of Appeals. Mr. Mills feels strongly about doing so, not only for his own case, but on behalf of others who have also suffered excessive force and misconduct at the hands of the Wrightsville Beach Police Department in general and by these officers in particular."
Contacted Wednesday, Darryl Mills said in a text that he would have no comment. "I have not read the court's opinion and with the possibility of an appeal it's still, it's still pending litigation — on which I never have any comment."
Lumina News Publisher Pat Bradford and News Director Terry Lane contributed to this report.
email [email protected]