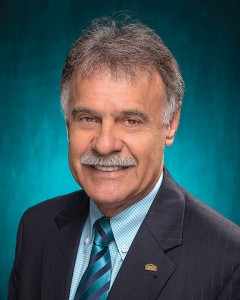 University of North Carolina Wilmington's new chancellor has been on the job only about two months, but he has a clear idea of where he hopes to take the university — to the top, or as close to it as possible.
Jose "Zito" Sartarelli, a native of Brazil, came to higher education after a business career that spanned three decades.
Gov. Pat McCrory and the state legislature have made it clear they want the university system to use business principles to operate and to graduate students who have the skills they need to enter a competitive job market.
The new chancellor wants UNCW to build on the example set by several nationally recognized programs, including creative writing and marine biology. Those programs illustrate that UNCW has the ability to compete on a national level, Sartarelli said.
The foundation must be built on excellence, innovation, diversity and ethics.
"For me, character matters," he said.
A global focus is also necessary, because "we are living in an interconnected world," he said.
Sartarelli said he will challenge his department heads to continually ask: "How do we become the very best?" Getting there will require a buy-in so that faculty, staff and administration are rowing in the same direction, he said.
He already has a strategy for how to get there:
1. Attract the best students, professors and staff.
2. Provide the best possible educational experience, making use of research and applied learning in the classroom.
3. Position students to graduate into good jobs. "We should instill early on that they should be thinking about a job in four years," Sartarelli said. The goal also will entail continued improvement of services offered by the campus career center, he said.
4. Engage the community. UNCW must be an active part of the broader community, which Sartarelli defines as all of southeastern North Carolina.
5. Ensure adequate funding to take the university "to the next level." That means demonstrating to legislators that UNCW spends its money wisely, while at the same time keeping a four-year education within the financial reach of students and their parents. "We do not want to contribute to greater indebtedness," he said.
Sartarelli praised ongoing fundraising efforts but said his goal is to double or even triple the amount raised. About 6 percent of UNCW alumni have given to endowments in the past several years. He would like to see that percentage increase considerably.
Private donations can help the university achieve its goals by providing scholarships to help attract the best students and endowed chairs to recruit top professors, the new chancellor said.
Above all, there must be tangible measurements to demonstrate progress. Goals are good, he said, but they don't work if they sit on a shelf.
Among his high-profile decisions so far is the permanent reinstatement of track and field. Its future has been in limbo for the past couple of years. The athletic department, directed to tighten spending, recommended eliminating most track and cross country programs despite their winning record.
Parents and supporters raised enough money to guarantee another year, but Sartarelli assessed the situation and said it was clear to him the program has strong community support. It will take a commitment to fundraising to build a new track and keep the program going, but Sartarelli believes the program can meet its goals.
When asked what he hopes to be remembered for when his time at UNCW is through, he summarized his vision this way:
"Five years from now, 10 years from now, if we are a better, more engaged, more global university, I will be very happy."
email [email protected]