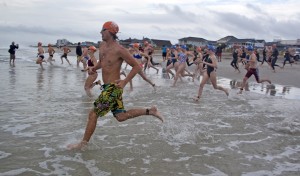 May 21, swimmers from around the country stroked from Johnnie Mercer's Pier to Crystal Pier in memory of a former swimmer and Wrightsville Beach lifeguard who died in a 2013 mountaineering accident.
Despite a forecast of thunderstorms, 107 swimmers took part in the third annual "Stoked to Go Out" Grey Liston Memorial Swim. Participants included current and former UNCW swimmers, Wrightsville Beach lifeguards, members of Liston's Wilmington swim team, his childhood friends from Raleigh and a few west-coasters who knew Liston from time spent in Portland, Ore. after college.
"Grey just had a lot of friends," his brother Seth Liston said after the race, adding that he loved seeing such an eclectic group of people from around the country brought together every year by the commonality of their friendship with Grey.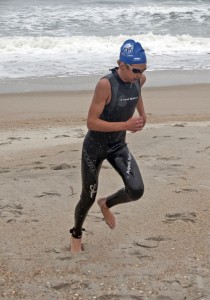 For the second year in a row, 13-year-old Jared Carter won the race with a final time of 36:14. This year's race conditions were tougher due to high surf, Carter said.
"The water was rough so you had to swim further out," he said.
Carter, like many of the other participants, used to swim with Grey Liston, on the Raleigh swim team New Wave. Other racers had lifeguarded alongside Grey on the Wrightsville Beach Ocean Rescue squad, on which he served for four years.
A group of current lifeguards swam the entire race alongside Grey's mother, Gail Liston, who completed her first open water swim ever in 2014's memorial race. The guards' moral support motivated her to finish this year's, her son Seth said, and while she finished in 1:25:22, most of the participants stuck around to cheer her in.
"I think if those guys weren't swimming alongside her, she would mentally defeat herself," Seth said.
The race earned the "Stoked to Go Out" name because Grey was so active—he excelled at climbing, hiking, biking, skiing, swimming and surfing, the event's website stated.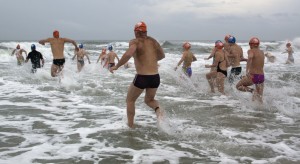 In addition to lifeguarding, he spent four years on the UNCW Seahawks' Swimming and Diving team. Many UNCW swimmers participated, and proceeds from the race benefitted the Grey Liston Endowment Scholarship Fund for UNCW swimming and diving student-athletes.
The fund grew large enough this year to award the inaugural scholarship to recent UNCW graduate Sarah Doyle. The money helped pay her senior year tuition, she said. She's participated in the memorial swim every year alongside her teammates, and they decided to continue the tradition as graduates.
They managed to stay together the whole race, crossing the finish line hand in hand. Local swimmers are a close-knit community, Doyle said, and the memorial swim represented that.
"To have all these people come out every year and support something like this, it's awesome," she said.