Youth surfers got a chance to meet several top pro surfers last week when they visited Wrightsville Beach as part of the Gnarly Charley Surf Series on Thursday, July 27.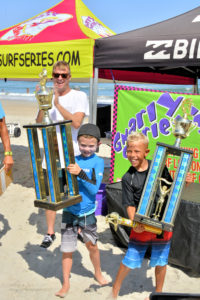 Pro surfer Taj Burrow, who retired from the ASP World Tour in 2016 after a 17-year career on the tour that saw him win 12 tournaments, came to the tournament, as did other pro surfers, including Peter Mendia, Bo Raynor and Knox Harris.
After the surfers arrived at the event, a line of kids eager to get the signatures of their favorite surfers. Most had the surfers sign hats, t-shirts and posters, but one young surfer, Mako Musilunas, who hoisted a trophy at the event, even got a signature on his forehead.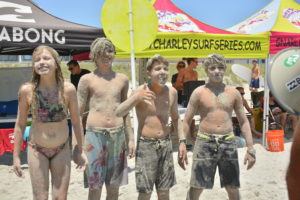 But a few of the young surfers wanted an even closer experience with the pros. Talan Groseclose, a young surfer from Carolina Beach, let Burrow shave part of his head to mimic the familiar "mohawk" style haircut Burrow would wear on the tour.
"It's pretty sick," Groseclose said of the haircut.
Groseclose said the event helped him learn about how to compete in a surf tournament.
"I learned how to wait on waves instead of just going for everything," Groseclose said.
Musilunas, who is already sponsored by Jersey Mike's Subs, said the tournament was a great way to meet new surfers and learn about surfing rules.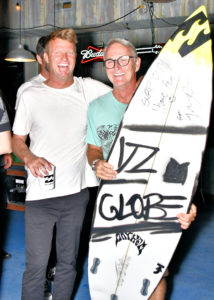 "It's about having fun and doing your best and being a good sport about it," Musilunas said.
The event also featured a surf competition between local surf shops, which was won by Surf City Surf Shop. Owner Mike Barden accepted the surfboard award on behalf of his team of surfers.