By Jana Mackin
Contributing Writer
Wind chimes of ribbons snapped and fluttered from the "Pink Ribbon Tree," ushering in Breast Cancer Awareness Month after Harbor Island Garden Club volunteers and the Wrightsville Beach parks and recreation staff decorated the iconic live oak in Harbor Way Garden at Wrightsville Beach Park on Friday morning.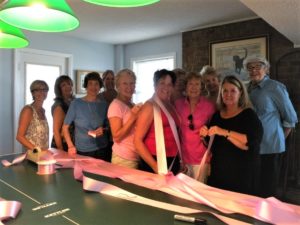 About a dozen volunteers and staff spent a couple hours straddling ladders as they tied scores of ribbons to the limbs of this oak in this fifth annual event. Each name bore a name- Gigi, Mary Ann, Turbo- personalizing the statistics of local breast cancer survivors and victims, where the National Breast Cancer Foundation says one in eight women nationally will suffer from breast cancer in her lifetime. The Garden Club traditionally puts up 100 ribbons each year – this year's 116 names is a record up from 78 names last year, organizers said. Besides the ribbons, club members also decorated the arbor leading into the garden with pink tulle fabric symbols for this month long memorial honoring those impacted by the deadly disease.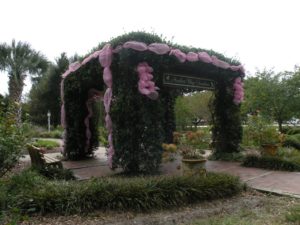 "We could decorate forever," club member Elise Running said."Each ribbon is at least 12-feet-long. They have to be visible. This year we used 550 yards of pink satin ribbons."
Visibility is key to communicating this message to pedestrians, drivers and the frequent visitors who sit at tables and benches under the tree, remembering loved ones. Cancer experts report that breast cancer is the second leading cause of cancer death among women.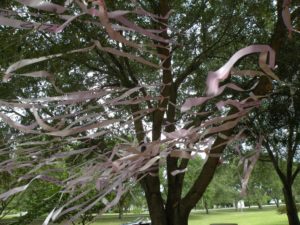 National Breast Cancer Awareness Month began in 1985 when the American Cancer Society and a pharmaceutical division of what is now AstraZeneca partnered to promote mammography in the fight against breast cancer. In 1990, Charlotte Haley, a California woman, created the first breast cancer ribbons to raise breast cancer awareness and research funding. Also in 1991, Susan G. Komen Foundation handed out pink ribbons at a New York City race for breast cancer survivors. In 1993, Evelyn Lauder, of Estée Lauder Companies, founded the Breast Cancer Research Foundation and created the pink ribbon as its symbol.
Now nearly three decades later, the "Pink Ribbon Tree" stands as part of the ubiquitous pink ribbons and reminders this month as messages of breast cancer awareness, honoring the now more than 3.3 million breast cancer survivors in the United States
"People love to look at the tree, "said Evan Morigerato, a supervisor with the Wrightsville Beach parks crew there to assist. "We just bring the ladders and help."