After 10 years of vacancy, the Wrightsville Beach Board of Aldermen approved a major residential development project for the 1.1 acre lot next to Johnnie Mercer's Pier, though it was not without some opposition from those who believe the lot should remain primarily used for commercial development.
Aldermen, developers and residents alike mulled the issue of development on Wrightsville Beach at the Thursday, Nov. 9 meeting. The retreat of commercial development is what Alderman Lisa Weeks said motivated her run for the board eight years ago, and in her final meeting, she was the lone alderman to vote against permitting the 11 duplex buildings that will comprise the "Atlantic View," with it winning a 4-1 approval.
The disagreement between developers that want to build up, and residents that want a limit on building height, was on display, as developer D. Logan, the driving force behind the project, told the board and the audience that a viable commercial project isn't possible under the current height restrictions.
But Weeks, along with a handful of residents, said they worried that losing more commercial development risked turning Wrightsville Beach from a viable town to a bedroom community of Wilmington, forcing residents to go "over the bridge" for essential goods and services.
While primarily residential duplexes, the Atlantic View project at 19 E. Salisbury Street would also include a unit for commercial, a compromise developers made after the residential project first stalled at the town's planning board in August. But with this area making up between only 4 to 8 percent of the total lot, Weeks and others said that commercial should make up a larger part of any project approved for a commercially zoned lot.
Weeks acknowledged that residential elements were appropriate for the lot, especially any units that face Seagull Street on the lot's north end, which is already lined with houses and duplexes. But she said that retail or restaurants would be more appropriate for the Salisbury Street side on the south that faces the parking lot to Johnnie Mercer's Pier. Supporters of commercial on the lot said "mixed use" projects with retail at the floor level and residential above would be ideal.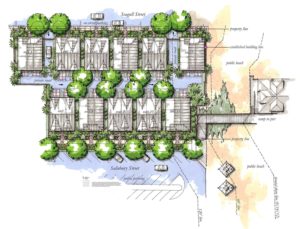 "The Salisbury side at least deserves a mixed-use project," Weeks said.
However, Logan countered that federal flood-proofing regulations made mixed-use projects unworkable for the lot, where developers would have to either install pricey flood-proofing on the ground level, which he described as a "submarine," or elevate the retail units, requiring passersby to walk up stairs to reach the businesses. Logan contrasted the lot with a $43 million mixed-use project currently in the works in nearby Leland.
"The difference is that there, I have the height," Logan said. "If retail works, we will be there. But here, you either have to build a submarine or go up a flight of stairs. It will not work."
The Atlantic View project will bring 11 duplex buildings, with 21 total units, to the lot. The bottom level of Unit K, approximately 2,000 square feet, will be reserved for retail, which could include a coffee shop or retail store. That unit, located on the east corner of Salisbury Street closest to the pier, would also have an outdoor deck, expanding its potential use. Logan said that developers also have an agreement with the pier that will open access to the lot along the pier's ramp.
The other 21 units at Atlantic View will be 2,800 square foot residential units with 352 square feet decks. Parking for the units will be onsite, with a drive separating the two rows of duplexes, with access from Seagull Street. Six units will line Seagull Street, with five on East Salisbury Street.
Logan said that two duplexes being built across the pier's parking lot, on Greensboro Street, bear the same design as the duplexes proposed for Atlantic View project. The project will feature duplexes of three distinct designs.
The project's supporters on the board said that residents have to be more realistic about commercial that will work on Wrightsville Beach, where businesses must balance booming summertime crowds that slow to a trickle during the winter doldrums.
Parking is a serious limitation for any commercial business on the lot, with a few board members arguing that it was unrealistic to believe that people would come to Wrightsville Beach to shop or to get a cup of coffee.
"There is not a market for a typical retailer there," said Mayor Pro-tem Darryl Mills. "The only thing that would work there is another bar, and I am not in favor of another bar on Wrightsville Bar."
Wrightsville Beach Chamber of Commerce president Sue Bulluck said she believed with an exception on height, it was still possible to bring in a hotel for the project. She urged the board to wait until it adopts a new long-term land use plan before bringing in a residential project for the lot. A town steering committee is currently considering changes to the land use plan, a long-term strategy document required by the state's Coastal Area Management Act. The current land use plan explicitly discouraged building over the town's 40-foot height limit and the CAMA steering committee has not proposed any change to the
But Mayor Bill Blair said that there have been at least four attempts to bring a mixed-use project to the lot, all abandoned due to the costs.
"We all want them, but it's hard to get people to come down with commercial projects. We don't have the infrastructure in place for it," Blair said.
To approve the project, the board first had to adopt a change to town code through a "text amendment" that would create a "group housing" option for commercial lots of an acre or more in the C-2 commercial district, which in Wrightsville Beach includes the area around Johnnie Mercer's Pier and Crystal Pier.
The text amendment would allow for up to 10 percent of the space to be commercial, a cap that Weeks argued should be higher. Weeks also said she worried that by setting a precedent, the "group housing" project could be successfully pursued by property owners in the C-3 districts, which include commercial lots by the marinas or on Causeway Drive, and further drive out retail businesses in favor of residential.
In her final meeting after two terms on the board, Weeks said that it was the conversion of the "Pizza Hut" lot on Salisbury Street from commercial to residential that prompted her to run for alderman eight years ago. The lot remains empty.