Three passengers were transported to the hospital and one person arrested after Wrightsville Beach police said the driver of a car fleeing police during the early morning fog and rain caused a car crash in the town's central business district.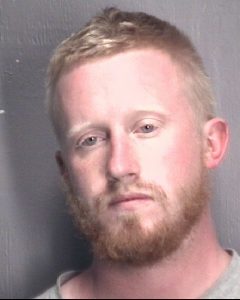 Graham Noah Lease, 25, of Leland, was charged with DWI, resisting an officer and hit and run resulting in serious injury after the 2 a.m. crash at the intersection of Causeway Drive and North Lumina Avenue, near the front windows of the Wings Beachwear store at 82 S Lumina Ave. Lease's bond was set at $10,000. 
The Chevy Cavalier driven by Lease collided with a truck used by the New Hanover County Animal Control unit. Neither Lease nor the driver of the truck, a county employee, were injured. However, three passengers in the car driven by Lease did suffer injuries, police said. Additionally, Wrightsville Beach police said that had the car driven by Lease not hit the truck, it may have carried across the lane and into the windows of Wings Beachwear.
Wrightsville Beach Fire Chief Glen Rogers said none of the injuries were life threatening, though one person's injuries were described as serious. Two women, both 28, and a man, 26, were injured in the wreck.
Wrightsville Beach police said the incident began when an officer was stationed around the crowd at the Palm Room on 11 E. Salisbury St., which features a popular Tuesday night DJ.
Bystanders pointed Lease out to police and said he shouldn't be driving since he had been drinking, Wrightsville Beach Police Capt. J. Bishop said, and the officer stopped the car Lease was driving to talk with him.
However, after a brief discussion, the driver sped away from the officer and turned left onto North Lumina Avenue.  The officer returned to his car to pursue, but due to the early morning fog and Lease's high rate of speed, officers lost sight of the vehicle before discovering the accident scene, police said.
The driver of the county's animal control vehicle was in the area to respond to a call regarding a wounded owl, Wrightsville  Beach police said.
Wrightsville Beach police on Wednesday conducted a forensic analysis of the crash scene, as the department employees one of only five certified collision reconstruction investigators in all of New Hanover County.
On Wednesday morning, the officer measured out the distance between skid marks and used a "drag sled," a portion of a car tire weighted with concrete and pulled with a scale. The test helps measure the coefficient of friction, helping investigators determine the speed of the car when it crashed. Wrightsville Beach Police Officer T. Wetherington said that he will also measure the amount of damage on the cars — specifically the amount of indentation of areas that are crushed — and feed the figures into a formula that will help find the impact speed.