By Mel Beasley
Intern
Former Wrightsville Beach surfer, 18-year-old Kat Neff, won the shortboard surfing competition in the women's division this past weekend at the East Coast Collegiate Surfing Championship for the University of North Florida.
"I honestly focus more on longboard surfing so it's funny that I won the shortboard competition," Neff said.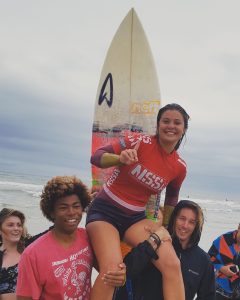 Born and raised in Wilmington, Neff grew accustomed to the smaller, choppier water conditions in Wrightsville Beach. It was an adjustment to surf the Florida waters, which feel very different compared to the North Carolina coast.
"I think the water is weaker off the Florida coast because it's farther away from the Gulf stream," Neff said. "The waves travel at a longer distance, and they are very slow at rolling over which can be challenging."
Neff prepared for the competition by doing "mock heats," a type of surfing drill that includes going out into rough waters for 20 minutes at a time. She also practiced surfing various kinds of waters, either rough or calm, to develop an ability to adapt in changing conditions.
The competition took place on April 7 and 8, and surfers were judged on a scale of 0 to 10 by wave size and length as well as style maneuvers. Competitors faced surfers from at least six other colleges or universities.
"I used a Roberts Black Punt model board because I didn't want to switch off something I was comfortable with," Neff said. "However, I am looking at other boards that might be better suited for the Florida water conditions going forward."
A freshmen student at UNF, Neff is majoring in international business and minoring in Spanish. She plans to come back to Wilmington to work for a month this summer but will study abroad in Spain for the remainder of the summer season.