By Rick Bennet
The Rod-man
Aside from the recent storm just off the coast, weather has been hot and it can be said the fishing has been hotter. Inshore, near shore and offshore have all been reporting good to great catches. I had one morning trip last week where we caught 3 kings, and BIG Spanish and one mahi, all within 10 miles. Now here's my report:
INSHORE: Red rum and large flounder are biting, mostly live bait and mostly in the inlets. Carolina rigs with just enough weight to hold bottom will do the trick. Best tide "mostly" has been falling, but don't shy away from the rising.
NEAR SHORE: Spanish mackerel have been offering lots of excitement not to mention good food. There have been some nice blues mixed in with the Spanish. Nice flounder are biting at the near shore artificial reefs. and King mackerel are venturing in closer in the bait balls as well.
OFFSHORE: Mahi have been providing great action in the 10 to 30 mile areas. Live bait or dead bait: they both work. Bigger kings are 20 or so miles out.
GULF STREAM: Big mahi, a few tuna and billfish are providing some thrills in the stream.
CAPE FEAR RIVER: Have not heard any reports yet, but the pompano should be showing up in the southern Cape Fear. Reds and flounder are biting in the creeks and points along the shore and the islands.
UPCOMING: The hotter weather will send good fishing to deeper spots, such as the near shore and offshore artificial reefs. Inshore deep holes near inlets and in the inlets will be holding fish too.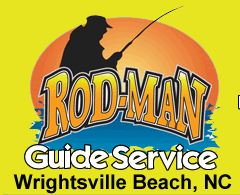 Fishing early in the morning and at night will be best.
Contact Captain Rick Bennett at 910-520-7661 or [email protected]