By Daja Terry
Intern
Surfing is a sport that requires a team of supporters and friends in order for everyone involved to be safe and successful. This team is called a tribe.
But there is something special about the tribe that gathered on the sand as the sun rose over the horizon at Wrightsville Beach this Independence Day. Whereas most tribes are made of men who have a lifetime of surfing experience, this one is a little different. Comprised mainly of women with a decade or less of experience, this tribe is a little different. This one is gnarly.
"We got the name one November day," Theresa Kramer said. "The waves were rough and it was just beautiful in its own wild way. Georgia and I were charging, just going at it. A man on the beach thought we were guys and was shocked to see two women come onto shore. He called us gnarly bitches, and that's that."
Together for three years, the WBGB surf tribe is giving a collection of predominantly intermediate women surfers a group that can share their experiences on the waves along with their experiences in life.
From physical therapists to environmental scientists to builders, this group of middle-aged professionals holds one thing in common: surfing. They described their comradery as a "heavy friendship."
"It's been great," said Abby Stewart, one of the tribe's chargers. "All of us are so different. We come from different backgrounds and have different beliefs, but none of that matters because we've come together over a common bond. We've managed to be really close despite our differences, and I'm blown away by that."
Come July 15, the WBGB will celebrate three years together, and each of the seven members says that they're glad to have met and bonded over a sport they love.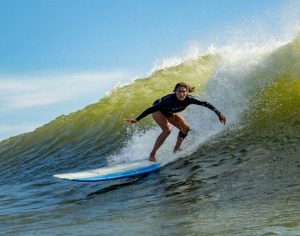 Theresa Kramer, a physical therapist, was in need of a tribe three years ago. She often surfed nomadically, getting into the sport after her son expressed interest with his group of friends. Kramer would hop around from group to group, mingling and hanging out with male-dominated tribes, but she wanted to find a tribe of her own with more women so that she could relate to those she surfed with.
"Surfing isn't a one-person thing," Kramer said. "You need people by your side to help out when the seas get rough."
Thus began the search. In the fall of 2014, Kramer met Kris Lee, another physical therapist who, like Kramer, had three kids. From there, they met Amy DeSaix, an environmental scientist, who discovered Georgia Winfree when Winfree tried to sell DeSaix a plan from Time Warner Cable. As the year went on, they found Courtney Maurer, Stewart and the "token guy," David Lemieux, who met Kramer on July 15, 2015, but joined the tribe officially on October 1 through Wrightsville Beach Longboard Association.
With July 4 being Lemieux's birthday, the friends wanted to get together for a morning out on the waves, although Winfree and Lee were unavailable, and DeSaix was unable to surf due to an injury that occurred when her board slipped from under her and her chin hit the rail of it.
Despite the fact that the tribe only gets together to surf once or twice a month, they text each other daily in a group chat, whether their conversation touches on surfing or not, and end up exchanging over one hundred messages a day.
"We're a family," DeSaix said. "Georgia and Theresa have come over to my house with ice cream at 11:30 at night when I was feeling down."
"Dave's helped Courtney build stuff for her house," Kramer said.
"And I've helped him with his rabbit," Maurer added. "We look after each other."
They "travel as a pack," Kramer said, no matter where they go. When they went to Puerto Rico, they "dominated the beach."
They have potlucks with "fresh, healthy, awesome" food and go bowling when they can. They take surfing trips together to California, and they plan on taking a trip to Colorado when Stewart moves there. Being a hiker and a climber, Stewart plans to take advantage of Colorado's mountains. Since everyone in the group is healthy and fit, they want to tag along to spend time with her and visit Winfree, who is currently in San Diego, California.
"She's a traveler," Kramer said of Winfree. "She's retired, so she just goes everywhere and surfs."
"When we get hurt, we're there for each other," Kramer said. "My husband has stitched us up a few times now. We know 90 percent of the people in the water. When one guy was pulled under the pier by a current and tore a muscle in his leg, I called my husband and he biked right over to help."
When Stewart broke her foot in an airport and was unable to surf, the tribe still managed to get her in the water, boot and all. And, despite the fact she wasn't supposed to, she still did a little bit of surfing.
"We have a neuropsychologist, some doctors—one guy I know is sixty years old and has just started law school," Kramer said. "You'll find hundreds of different kinds of people out on that beach."
And in their seven-person tribe? A lot of personality.
"Dave sticks cars," said Stewart, a human resources specialist. "If he gets a new sticker, we're prepared to find it on one of our cars."
"Usually Kris is the first person out here," DeSaix said of Lee, who was absent. "She'll be out there at 5:30 some days."
"Courtney and Abby are our chargers," Kramer said. "But Dave likes to snake everyone's waves."
While many of them have only been surfing for less than ten years, they all agree that it's made them healthier and happier individuals.
"It's a time for us to get together and laugh," Kramer said. "Whenever we're out there, it's all about peace and time with your friends. It's a spiritual experience, almost, where we can just catch up. We've been blessed to have found each other."