Nearshore: Spanish Mackerel are being caught in 45 ft – 60ft of water over drop offs and structure. We have caught most of the spanish mackerel 5-6 miles off the beach this week. Five miles is where the water clears up and the structure is holding bait. All rods should be rigged with size 00 silver clarkspoons and 30 lbs floro/mono 40ft leaders attached each planner with small ball bearing snap swivel. We tie all our spoons to the leader (no swivels to spoons). The less terminal tackle in the water the more fish you will catch.
Offshore: Mahi bite will start to pick up once the weather breaks this weekend. We are still catching them in the 20-30 miles of the beach. We are using small blue/white, red/white black/purple Ilanders rigged with small ballyhoo on the inside out riggers and red/white Ilanders rigged with small ballyhoo on the outside outrigger. We are also running two skirt rigs on flat lines on the edge of the prop wash 60 ft back. Green/white naked skirts have worked best early mornings. The King Mackerel bite has been best in the 60 ft-75 ft of water. The water has been cleaner and full of nutrients the father north east we go out of the inlet; plus there is more bait over structure and drop offs up there this time of year. Pulling white/silver Drone spoons on #6 or #8 planners with 50 ft 100 lbs floro/mono leaders. You can also slow troll with live bait when the seas allow for it.
Gulfstream: The Wahoo, Black fin and Mahi bite has been best in 30 – 50 fathoms north east of Masonboro inlet. Wahoo have been biting black/purple Ilanders rigged with large ballyhoo on planner rods. The Mahi and Blackfin Tuna bite has been steady in 20 – 30 fathoms. Pulling small blue/white and red/white Ilanders rigged to small ballyhoo on outriggers has been working best. Naked small skirt rigs have also worked to catch Tuna and Mahi.
Capt. Jesse Gawlik of Ocean Stinger Fishing Charters operates out of the Bridge Tender Marina at 1418 Airlie Rd. in Wilmington, just before the Wrightsville Beach drawbridge.
Contact him at 910-777-9734 or [email protected]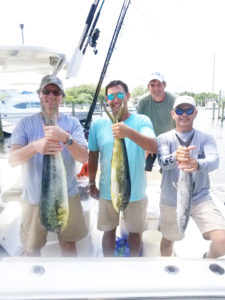 Catch of the Week :  Gary Stupp and his fishing buddies show off the King Mackerel and Mahi caught 25 miles offshore from Masonboro Inlet on Augst 5th, with Captain Tyler Barrack.