As the town of Wrightsville Beach continues the recovery process for damage from Hurricane Florence, the board of aldermen approved special measures to give the town manager the ability to begin making repairs to lift station no. 1, the town's parks and recreation building and the town's public safety building, all of which saw significant damage from the storm.
The town's damage is part of an estimated $220 million in damage for all of New Hanover County.
The town's lift station no. 1, which is vital to pumping sewage off of the island, had all four of its pumps submerged during the storm, which also contributed to officials delaying a return to the island. Likewise, the town's parks and recreation building had significant damage to the roof, leading to extensive flooding that required the interior to be completely gutted, town manager Tim Owens told the board of aldermen on Sept. 27. He said the town would have to decide whether to try to repair the building or build a new structure.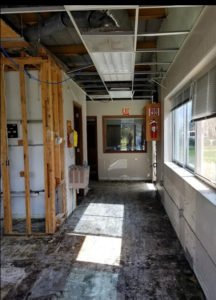 The town's public safety building also suffered damage, Owens said, including some flooding of the dorm rooms used for fire department interns.
The Wrightsville Beach Board of Aldermen also approved a bonus for 33 employees who stayed at the Hampton Inn & Suites on Eastwood Road during the storm. Employees will receive a $500 bonus and department heads will get a $1,000 bonus.
Meanwhile, the Wilmington City Council heard on Tuesday that city government facilities suffered an estimated $1.8 million in damage, while an estimated 800,000 to 1 million cubic yards of debris to be removed. The city has  20 crews out addressing dangerous trees and hanging limbs around the city.
Other damage to Wrightsville Beach from Hurricane Florence includes:
Signs Around Town Lost to Storm

Bulkhead at South Channel Park

Lifeguard Stand damage

Damage to Parks and Recreation Office Building

Minor Damage to Town Hall

Damage to PS Building

Damage to 2 set of steps at Asheville and Henderson (removal)

Damage to steps and walkways at Island Drive Park and South Channel Park

Vegetative, C&D, and white goods pick-up

Loss of Dune Vegetation on Beach

Loss of Sand fence on the beach and damage to sand fence

Significant erosion

Garage Storage

Animal Control Shelter

Public Works Office

Water and Sewer Shop

Parks and Rec Chemical Building

Parks Maintenance Office

Flotilla Building

PS Building Door Access Card Reader

Elevated Tank 2

Well #1

Sewer Lift Station #2

Well #1

WTP#2 Pump house

Well #7

Old Fire Department