By Gary Franks
In Pope Benedict's final letter, he asked for forgiveness. In the past, Benedict acknowledged "his failure to act decisively at times in confronting sexual abusers."
The priest sex abuse scandals over the decades have been shocking and horrific. The issue has been debilitating to those directly and indirectly affected. More than $3 billion have been paid in legal settlements to victims between 1950 and 2018.
Over 7,000 members of the Catholic church sexually abused over 20,000 minors, predominately young white boys. The man responsible for disciplinary action for the church for over 25 years was then-Archbishop/Cardinal Joseph Ratzinger who would go on to become Pope Benedict.
The cover-up by the bishops of the church for many involved the lead bishop – Pope Benedict. Though I do not relish speaking ill of the dead, crimes by priests against minors simply cannot be minimized or ignored. In fact, they are worse than many have assumed. The collateral damage also had an effect on inner cities where a disproportionate number of Black people and Hispanics reside.
A major asset of the Catholic church are its school buildings. A countless number of Catholic schools were closed in the inner cities in my home state of Connecticut. These school closures impaired, if not eliminated, accessibility to a Catholic school education, which has helped millions of minorities ascertain and hone their academic skills, morals, and character development, all of which is needed for students to become productive members of society.
And this has been occurring nationwide.
Pope Benedict fell into a very dubious category. He was part of the leadership of the church that saw and realized there was a problem and did too little too late to properly address it.
The actions were criminal and the coverup made others complicit. But statutes of limitations saved a number of priests from serving jail time. Since 2004, over 800 priests were defrocked for alleged sexual abuses, including an American Cardinal from Washington, D.C.
Such scandals recently resulted in the bankruptcy of the Archdiocese of Norwich, Connecticut. In total, 31 U.S. Catholic dioceses and Religious Orders have filed for bankruptcy protection.
Full disclosure – I am a product of a public-school education for grade school and a Catholic high school education (I attended Sacred Heart in Waterbury). The school was on the verge of celebrating its 100th anniversary as an inner-city high school. It produced the current U.S. ambassador to England and the former ambassador to France, as well as mayors, professional athletes, scientists, a congressman, and other contributors to society. It also boasted more state basketball championships in the 21st century than any other school in New England.
It was one of the last inner-city high schools in the Hartford Archdiocese. To get rid of nearly every inner-city high school while keeping open those in the white suburbs seemed discriminatory.
Being a Catholic school supporter does not mean I do not appreciate the public school system. Four of my siblings at one time taught in a public school. They all gained an excellent education before three of them went on to get doctorate degrees. But we all believed in school choice.
There has been a slew of Black youngsters who have benefited from being able to get a Catholic School education. The following are just the athletes: Lew Alcindor (Kareem Abdul Jabbar) – Power Memorial to UCLA; LeBron James – St. Vincent-St. Mary; Carmelo Anthony – Towson Catholic* to Syracuse; Rod Foster – St. Thomas Aquinas* to UCLA; James Brown of CBS Sports – DeMatha to Harvard; Adrian Dantley – DeMatha to Notre Dame; Caleb Williams – Gonzaga to USC (Heisman Trophy winner); and me – from Sacred Heart* to Yale, just to name a few. (*Schools that have closed).
In early 2021, I joined other alumni who proposed a financial plan to keep my alma mater open. My direct conversation with the leaders of the Archdiocese of Hartford was a sham. The die had already been cast. They had already closed nearly every grade school in the inner city of Waterbury, resulting in a lack of feeder schools in the area. This created a self-fulfilling "enrollment problem" prophecy for my high school. After being open for 99 years, Sacred Heart High School's doors were closed.
In many instances, the municipal government would construct a beneficial financial arrangement for the archdiocese in exchange for or use of the former school.
The losers are the Black and Hispanic students in Connecticut, but ultimately the entire state will feel the negative effects of these closures. Other locales who did the same – ditto.
I questioned if Black and Hispanic students could lose their access to a Catholic education while it was being provided to white students and everyone being okay with that – apparently it was.
The Catholic church leadership's failure to address sex abuse scandals by priests and ensuing cover-ups was a monumental event in modern history. For flawed leaders who saw a massive wrong and did not stop and punish those at fault is an unconscionable act. As time passed, Pope Benedict and other Catholic church leaders saw the negative results of their inadequate response. They failed to offer or implement real solutions, but did apologize.
The Catholic church clearly has some unfinished work to do. And they should recognize the collateral damage they caused to the inner cities of America.
May Pope Benedict rest in peace.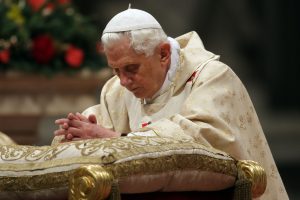 Gary Franks served three terms as U.S. representative for Connecticut's 5th District. He was the first Black Republican elected to the House in nearly 60 years and New England's first Black member of the House. Host: podcast "We Speak Frankly." Author: "With God, For God, and For Country." @GaryFranks
©2023 Gary Franks. Distributed by Tribune Content Agency, LLC.