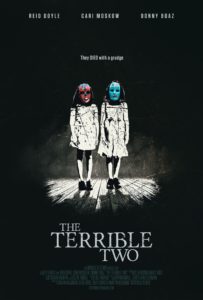 Many in Wrightsville Beach will recognize actor Reid Doyle from his commercials and television appearances, but now the familiar face will take the big screen, as the local producer is set to release his first feature-length film this week.
After nearly two years of work, The Terrible Two will premier at Thalian Hall on Thursday, March 23. Though he's shot videos and commercials, and acted in other productions, it's the first feature length film for Doyle, who collaborated with partner and director Billy Lewis to make the horror film for local production company Orange St Films.
"It went from a stack of papers with words on it to a completed product," said Doyle. "It was more fun for me than other projects because I got to be one of the top dogs and have my say-so. But that came with a lot of the blood, sweat and tears that we all put into it."
With the low-budget production, Doyle said he is working to keep the local film industry alive while also getting a deeper journey into the business-side of filmmaking. After the Wilmington debut on Thursday, Doyle and Lewis will continue the process of trying to sell the film to domestic and international markets, where it could be seen on DVD, video-on-demand or even some theaters.
"I'm used to being out front, but the business aspects and the selling of it, is very new to me," said Doyle, a former University of North Carolina Wilmington exercise science student who has made Wrightsville Beach his home for the past eight years.
Doyle, who plays male lead Albert Poe in The Terrible Two,  describes it as a paranormal horror thriller, the type of movie that creates its chills from the suspense of the moment, rather than the bloody scenes of a slasher film. The film occurs during a three-day span around the one year anniversary of the children's death.
Doyle's co-star Cari Moskow, Poe's wife Rose, has become possessed and believes she's hearing messages from her departed children. Doyle is exacerbated with what looks like a descent into madness. He said his favorite moment in the film was a line from that scene:
"These are not our babies, Rose, get that through your head!" Doyle's Albert exclaims in the trailer.
Doyle said that the Thalian Hall theater is the perfect venue for the horror thriller, especially since the 150-year-old building is rumored to be haunted. The Terrible Two will play Thursday, March 23 during a 9 p.m. screening that is open to the general public.
Doyle landed several experienced actors for the production, as both Moskow and co-star Devin McGee each had credits on One Tree Hill. Another co-star, Donny Boaz, was a cast member on the History Channel's "Six," where Doyle was also cast in a role. 
Most of the movie is shot at Lewis' Pine Valley house, with a few shots staged at Greenfield Lake Park, during December 2015, with a few days of re-shoots in May 2016.
According to Doyle, while the house was listed, Lewis toured it and saw its potential as a set for a horror movie.
"When he bought the house with his beautiful wife, he said one of the stipulations has to be that we shoot a horror movie there," Doyle said.
The December shoot also served as a homecoming for local film crews that worked on the production.All of them were paid below what they could earn for productions in Atlanta and New Orleans, but they all wanted the chance to work on the unique project, as well as allow them to stay in the Wilmington area over the holidays.
"Nobody wanted to have to leave, this shoot gave them just enough money to make it worth it to stay here," Doyle said.
He said the filming was shot over nine-and-a-half days in December 2015 and like most shoots, Doyle said it had its bumps.
"We had to recast the little girls two days into the movie," he said, noting that adding a character required another two-and-a-half days of re-shooting. "This whole thing taught me nothing but patience."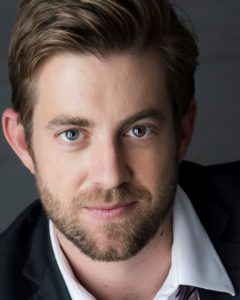 Doyle's most recent screen credits include the History Channel show "Six", filmed here in Wilmington, where he plays a member of Team Echo, the backups to the Navy SEAL team depicted in the show. Doyle can be seen on screen giving hand signals, moving into position and getting ready for combat, skills he began to learn through military training provided by the studio.
After the film premier, Doyle and Lewis will get to the work of selling The Terrible Two.
The duo has a sales representative, who has already teased the film in the European market.  Though there's hope of some theatrical releases in big cities, most of the domestic sales are expected to be through video on-demand services and DVD sales.
Doyle said his goal for the film is to be profitable, and while in the process, return strength to the Wilmington film industry.
"That's why we fight for the incentives," Doyle said of efforts to preserve state funding to attract film productions.  "More opportunity here to get more roles. We have the resources here. Geographically, it provides great visuals. Awesome to shoot, awesome crew to work with."