Brownie Harris decided he wanted to become a professional photographer the night after Reverend Martin Luther King Jr. was assassinated in April 1968. As Harris rode home to Richmond, Va., via train from Beaufort, S.C., the evening of April 5, 1968, the train passed countless towns on fire in reaction to the news.
"A friend of mine had an old Nikon and back then you could walk between the train cars and it was open, so I was shooting with that," Harris said. "That was really the night I decided to be a photographer. There were National Guard troops going down the streets and I remember passing the towns on fire like Rocky Mount, North Carolina."
Between 1968 and 2015, Harris compiled a catalogue of work most photographers would only dream of. From his start working as the television photographer for stations like the PBS flagship WNET in New York City to photographing portraits of celebrities like Paul Newman, Miles Davis and John F. Kennedy Jr., and everything in between, a retrospective look at 45 years behind his lens will be exhibited at the Wilma W. Daniels Gallery at Cape Fear Community College beginning Friday, Jan. 23.
Harris said he would have about 30-40 works on display in the gallery with a host of stories to go along with them, explaining the moments he captured both on and off the camera.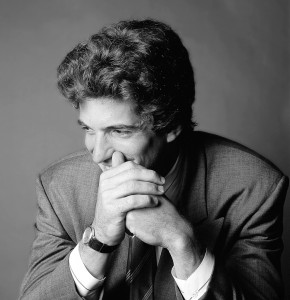 One photo Harris is renowned for is a portrait of the late John F. Kennedy Jr., hands together, looking at the camera. However, the poster for the gallery features an alternative photo of Kennedy laughing away from the camera that Harris found much later after the shoot.
"That photograph of Kennedy laughing, you didn't really see a whole lot of photos of him laughing," he said. "Sometimes they don't stand out until later. I didn't even notice that laughing photograph until many, many years after he died because people wanted to see him looking at the camera."
Another memorable interaction with one of his subjects came during the first few minutes after meeting Paul Newman.
"We were sitting down and he said, 'Brownie, what if you get an A in photography but fail in life?'" Harris said. "It took me about 20 years to realize what he was talking about; that you shouldn't make your career more important than your family. I took it personally but it wasn't.  . . . I didn't even get an A in photography."
A category of Harris' work that many may see for the first time in the gallery is his industrial photography shot for General Electric and Raytheon's annual reports, and bromoil prints.
The industrial work features images like GE's largest gas turbine photographed with 27 coordinated strobes, Doppler radars and spacecraft.
"A lot of people are interested when they see industry as art instead of just in a factory setting," he said. "Whatever they would produce — appliances, aircraft, radars — we would go shoot it."
It will be the first time most of the gallery patrons view his bromoils, Harris said, which will include images like those he photographed of Plimoth Plantation for Raytheon in the 1990s.
The bromoil technique was developed around 1907 by British photographers who made photographs appear like paintings by using chemicals like silver bromide and bleach to produce a softer image.
"They wanted photographs that looked like paintings. . . . Commercial photography was not accepted at that point because people thought they should look like paintings," Harris said. "Mine look like lithographs from the 16th and 17th century because I will be showing shots I took for Raytheon at Plimoth Plantation."
Other photographs Harris will display include dancers Mikhail Baryshnikov, the Twyla Tharp Dance Company and the Paul Taylor Dance Company; and a segment of photos from the HeartsApart organization of deployed soldiers and their families.
Harris' last retro show in 2008 in Charleston notwithstanding, he said he was blown away by the quality of the Wilma W. Daniels Gallery while attending a show for "Under the Dome" director Jack Bender and was exited to be able to display a collection of his works again.
For more information about the gallery and the show, visit www.cfcc.edu/blogs/wilmagallery/
email [email protected] minanews.com