What began as a confrontation over what some Wrightsville Beach residents considered heavy-handed tree cutting by Duke energy crews appears headed for an agreeable, if not ideal, resolution. Following a meeting April 2 with two Duke arborists, Live Oak Drive residents and town officials now say they hope to avoid a similar situation in the future.
Former Mayor David Cignotti, who lives on the street and has served as the neighborhood's unofficial spokesman in the ongoing discussion of the utility's tree-trimming policy, said he now believes an amicable solution is within reach.
In addition to Duke Energy's arborists, residents invited their own tree expert to represent their interests. Using a laser pointer, the company arborists explained where the remaining two trees will be cut. After the meeting, which lasted 90 minutes, Cignotti said company officials agreed the remaining two trees in the median will not need to be pruned to the same extent as larger trees that have already been cut.
That is a significant departure from the standoff that led a Duke Energy spokesperson to suggest the company would consider legal action if necessary. Residents never wanted to take it to court, Cignotti said, and he and other residents are now hopeful for a satisfactory outcome.
"We're not criminals," he said. "We're just people who really care for our neighborhood."
Town Manager Tim Owens also attended the meeting. Based on assurances from Duke Energy officials, he believes the tree crews will take only the minimum necessary to protect power lines. He and Cignotti also said future meetings are possible to discuss options that could preserve the tree canopy.
The remaining two trees in the median are not as tall as some of the oaks that residents felt were cut back too severely. They will be trimmed after the Azalea Festival, Cignotti said, and residents will be there to observe.
Residents of the tree-lined neighborhood were outraged by the condition of oaks after Duke crews cut them, to the extent that about a dozen of them assembled to halt pruning. The company is required to cut limbs from around transmission lines to prevent power failures, but residents thought crews went too far.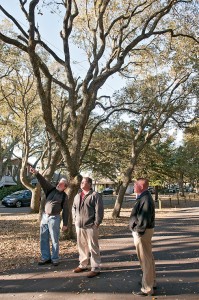 While residents still believe the company could take greater care with the stately trees, they came away from last week's meeting with a sense that officials listened to their concerns, said Colin Eagles, a Live Oak Drive resident who was shocked to see how the trees in front of his house were cut.
Although he and his neighbors still object to the way the cutting was done, Eagles was pleased at the power company's willingness to send representatives to discuss the residents' concerns.
"When all was said and done, everyone was satisfied and no one was happy," he said.
A Duke Energy spokeswoman said the meeting went well and  residents came away with a better understanding of the trimming process. "While our trimming practices are not always aesthetically pleasing, they were developed by arborists," spokeswoman Meghan Musgrave said. The goal is to cut them so that they grow away from the power lines, she said.
Going forward, residents want a long-term resolution, preferably one that eliminates the need for extensive pruning. Some alternatives, such as burying power lines, may be too costly to consider, Eagles said, but he hopes it may be possible to raise the height of the utility poles so  lines rise above the green canopy.
Utility officials, town officials and Live Oak residents are planning to discuss alternatives after the remaining trees are pruned. The company can study the potential options and associated costs, Musgrave said.
"We will live through the cutting next week," Eagles said. "We will do everything in our power to make sure that Duke upholds its end of the bargain."
email Tricia Vance at [email protected]