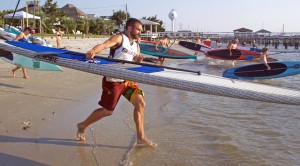 For the fifth summer, the Blockade Runner Beach Resort is hosting free weekly paddleboard races. This season, one participant will win a 14-foot paddleboard.
The Sunset SUP races are held every Thursday evening, June through August, at the Blockade Runner's sound-side beach. Participants arrive at 6 p.m. and races start at 6:30 p.m. Paddlers can either enter the community division, the elite division or the kids' division, depending on age and skill level.
Organizer April Zilg will create a different racecourse every week based on tide, wind and swell. The different courses are aimed at keeping the races interesting for those who come back week after week.
The 14-foot board will be raffled off at the end of the season. Each week, every paddler earns at least one raffle ticket, and race winners get extras based on their order of finish.
The races usually draw a few of the area's top paddleboarders, who use the weekly competition as practice for the handful of prestigious paddle races held at Wrightsville Beach throughout the year, like the Carolina Cup and the Cold Stroke Classic. But the Sunset SUP series also presents an opportunity for new paddlers to gain racing experience in a low-key setting.
One of the June 23 racers, Bill Peters, had never entered any race before. The Cary, North Carolina, resident, who makes regular trips to Wrightsville Beach, just bought his board recently.
Conditions were testing, even for the experienced paddlers, but Peters showed determination to finish the community race. He stroked across Banks Channel through the stiff current to reach the turnaround point. On his way back, the 20-knot south wind threatened to sweep him off track, so he lowered to his knees to cut the resistance.
Despite the rough conditions, he had fun, he said, walking over to join the growing group of finishers who left their boards on the sand and were laughing and chatting over cold beverages.
email [email protected]