January
A Charlotte man died on the Wrightsville Beach strand near Public Beach Access No. 2 on Thursday, Jan. 7 from a self-inflicted shotgun wound. Many, but not all people who die by suicide, exhibit warning signs. The National Suicide Prevention Lifeline is available at 1-800-273-8255.
Republican presidential candidate Ben Carson visited a Summer Rest Road home on January 8 for a private campaign fundraiser.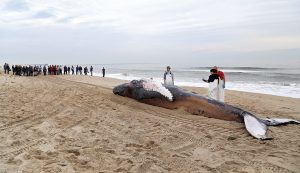 Dr. Bernice King, the youngest daughter of the late Martin Luther King Jr., spoke to a standing-room-only audience Jan. 22 in UNCW's Kenan Auditorium and challenged the crowd to raise the standards for racial relations in the United States.
A humpback whale washed up on Kure Beach the morning of Jan. 27. The juvenile male humpback weighed almost 15,000 pounds and was 27 feet long.
Celebrity chef Emeril Lagasse prepared a luncheon and private dinner in Wilmington Jan. 28-29 to raise money for the Girls Leadership Academy of Wilmington (GLOW), North Carolina's first all-girls charter school, which opened in August.
Wilmington's Domestic Violence Shelter and Services Inc. celebrated its 30-year anniversary.
Seventy-two standup paddleboarders braved freezing conditions during the eighth annual Cold Stroke Classic. Organizers introduced a new race category for outrigger canoes, kayaks, and surf skis.
February
Wrightsville Beach's oldest home, the Bluethenthal House at 271 S. Lumina Ave., was demolished to create two new single-family home lots.
Buddy's Crab House and Oyster Bar on Wrightsville Beach permanently closed its doors after 25 years of business. The North Lumina Avenue landmark was known for its wallpaper of dollar bills.
March
The North Carolina Department of Environmental Quality held one of 15 statewide hearings in downtown Wilmington to the draft proposed classifications for the Duke Energy coal ash impoundments.
The History Channel filmed scenes for "Six," its series about SEAL Team Six, at a house on Wrightsville Beach's Pelican Drive.
The New Hanover County Board of Commissioners voted to use department of transportation funds to complete the Ogden skate park.
A cannon was unearthed by crews excavating in front of the federal building on Water Street in downtown Wilmington. Experts dated it to the 18th century.
Titan America announced plans to suspend building of a coal-fired plant and strip mine in Castle Hayne.
April
Glenn Rogers accepted the position of Wrightsville Beach fire chief. Rogers came to Wrightsville Beach from Manchester-by-the-Sea with 30 years of experience in coastal fire departments.
The Wilmington City Council rejected a rezoning plan off Wrightsville Avenue that would have allowed a 3,000-square-foot medical office to be built.
The University of North Carolina Wilmington became the first university to receive a tabletop depolymerizer, a machine that turns plastic back into its original form, oil.
President and chief executive officer of New Hanover Regional Medical Center, Jack Barto, announced his retirement.
The USS North Carolina Battleship celebrated its 75th anniversary.
Wrightsville Beach hosted the sixth annual Carolina Cup standup paddleboard race. New Zealand's Annabel Anderson won the elite women's graveyard race for the fourth consecutive year.
King's Beachwear at 21 E. Salisbury St. caught fire on April 29, attracting a crowd of onlookers from nearby Johnnie Mercer's Pier. Fire chief Glenn Rogers deemed the fire unsuspicious.
May
Jonathan Babin was hired as the new assistant public works director in Wrightsville Beach.
Environmental advocates at Wrightsville Beach joined hands in the annual Hands Across the Sand event to celebrate the federal government's announcement that it would not allow offshore drilling in the Atlantic through 2022.
June
The Wrightsville Beach Museum of History celebrated its 20th birthday.
Wrightsville Beach Park opened a new inclusive playground, including a Liberty Swing, designed for individuals in wheelchairs.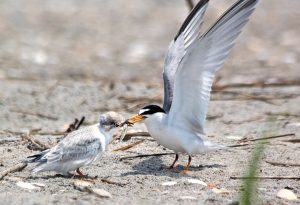 Tropical Storm Colin passed offshore June 7.
April Zilg, a Wrightsville Beach-area standup paddleboarder, ascended to the top 10 world ranking of women's standup paddleboarders.
Audubon North Carolina documented a successful year in Wrightsville Beach's south end nesting shore bird sanctuary with at least 349 tern pairs, 123 black skimmer pairs, 14 common tern pairs, and four oystercatcher pairs.
July
Wrightsville Beach lifeguards made 63 water rescues during the three-day July Fourth weekend. Up to 4,000 people celebrated the holiday on Masonboro Island.
Wilmington's Gabe Morvil won the Explorer Men's Division of the National Scholastic Surfing Association national championships in Huntington Beach, California, July 3.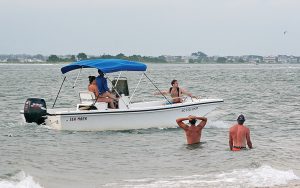 Wrightsville Beach Ocean Rescue won an overall first place in the United Lifesaving Association South Atlantic Region competition in Folly Beach, South Carolina, for the fourth consecutive year.
Charles "Chuck" Kuebler's wife and children held an ocean-side prayer gathering July 28. Kuebler, a 58-year-old Wilmington resident, is believed to have disappeared while swimming at Wrightsville Beach. The Wrightsville Beach Fire Department and U.S. Coast Guard searched for Kuebler offshore for two days after he was last seen entering the water near the Carolina Yacht Club around 9 a.m. July 26.
The state of North Carolina enacted a new law, which took effect Dec. 1, to enforce stricter penalties on intoxicated boat drivers.
The New Hanover County Board of Commissioners approved a comprehensive new future land use plan that updated the county's process for reviewing and permitting development proposals for the first time since the 1970s.
August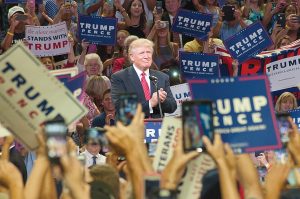 Loggerhead sea turtles nested in record numbers in Wrightsville Beach. Between May 15 and Aug. 31, Wrightsville Beach Sea Turtle Project volunteers documented 15 nests on the beach strand.
Republican presidential candidate Donald J. Trump, father-in-law to Wrightsville Beach native Lara Yunaska Trump, spoke to a standing-room-only crowd at UNCW's Trask Coliseum on Aug. 9.
September
Rep. Holly Grange was sworn in as one of the newest members of the North Carolina General Assembly following Rick Catlin's resignation.
Douglas Nelson Edwards, of Wilmington, was charged with the kidnapping of a 6-year-old Wilmington girl Sept. 14 and held in the New Hanover County Jail on a $9 million bond. The girl was found in a wooded area the following day and safely returned to her family.
A project to reduce storm water runoff pollution in Wrightsville Beach resulted in significantly reduced bacteria concentrations in tested areas, a two-year study conducted by the North Carolina Coastal Federation revealed. The federation deemed the project, which used filtration systems and civil engineering to reduce rainwater flow into Banks Channel, a "significant success."
The Wrightsville Beach Board of Aldermen unanimously approved the permit for Charlie Graingers, a hot dog chain, to open on N. Lumina Ave.
The fourth annual North Carolina Marine Debris Symposium drew environmental advocates from across the state to Wrightsville Beach Sept. 11-14.
Coastal storm damage reduction projects in Wrightsville Beach were determined to have a 7.62 to 1 benefit-cost ratio, as determined in a study conducted and released by the U.S. Army Corps of Engineers.
October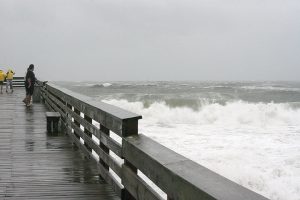 Hurricane Matthew hit Wrightsville Beach Saturday, Oct. 8, with wind gusts that peaked at 70 mph. The town endured the storm with little damage, while inland areas of North Carolina suffered fatal and severely damaging floods.
The Wrightsville Beach Board of Aldermen rejected a zoning proposal that would have raised the height limit on the development in the lot behind Johnnie Mercer's Pier from 40 feet to 50 feet.
The pilot who flew a helicopter over Wrightsville Beach in an August marketing stunt was cleared by the FAA of violating any aviation laws. Jennifer Ward, owner of High Tide Helicopters in Oak Island, flew a marketer for the startup app Likeli over the beach strand during UNCW's annual beach bash, dropping dollar bills and flyers. The stunt caused an immediate social media backlash for littering.
November
Wilmington City Council rezoned the mobile home park on Wrightsville Avenue, next to the empty Galleria shopping center lot, for a mixed-use development.
Woody White, Jonathan Barfield Jr. and Patricia Kusek won seats on the New Hanover County Board of Commissioners.
Wilmington City Council approved a plan to create a municipal service district downtown. To fund the district, the city will tax seven cents on every $100 in property value, creating a $275,000 budget.
Crew members from the Wrightsville Beach Fire Department travelled to western North Carolina to help battle a 7,000-plus-acre wildfire in the Lake Lure region.
Brent and Chris Jernigan won the Best in Show award for their theme, White Water Christmas, in the 33rd annual North Carolina Holiday Flotilla.
Fishermen at Johnnie Mercer's Pier spotted as many as four whales within 70 yards of the pier Nov. 26.
December
The 12th annual Hope from Helen Surf Silent Auction raised $43,000 in three hours, and drew an estimated 1,000 attendees, the most in the event's history.
The Wrightsville Beach Fire Department recognized the 35th anniversary of the death of Lt. Robert Wynn, the only W.B. firefighter to be killed in the line of duty.
Lanier Parking, the company that manages parking for Wrightsville Beach, reported $3 million in revenue for the 2016 tourist beach season.