By Jana Mackin
Contributing Writer
A jam-packed joyville of Rooty Rascals rode the ornament express to Wrightsville Beach Elementary School last month where they confected Christmas keepsakes for their hospice tree destined for a local holiday fundraiser.
For about an hour, more than 60 fifth graders flooded the school cafetorium awash in the raw materials for holiday magic. Sea shells, glitter, glue, fancy beads, sea glass, wire, stones, and island flotsam and jetsam were laid out on several folding tables staffed by more than a dozen Harbor Island Garden Club members and other volunteers. Sponsored by the garden club, the project offered the Rooty Rascals, the club's Junior Gardeners program for the school's fifth graders, a chance to make holiday decorations for a worthy cause in a festive controlled chaos.
"Season's Greetings from the Island," said Eva Elmore along with Kim Watters, co-chairs of the Rooty Rascals. This year's theme focuses on ornaments being made from the island's natural materials.
"The kids are incredibly creative in their wide range of ornaments," said Elmore.
"It's a rather ambitious and insane activity," she added, explaining that they will complete the project at another session this Wednesday.
"We were equating it to speed dating," she said, explaining how groups of kids shifted in timed sessions between several ornament-making stations.
While giggling kids on a short leash of time might have courted pandemonium in lesser hands, the Rascals proved up to the challenge. They made oyster angels, cockle shell pelicans, clam fish, pearl clams and oysters, pine straw wreaths, decorated Wax Myrtle wood slices, and letters garnished in glitter and sand.
"Christmas is always here in our ornaments," said Hannah Ford, 10, holding up her wreath.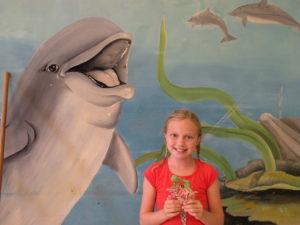 "The ornaments are going to be for the hospice tree," said Ford.
This is the second year Rooty Rascals have decorated a tree for the Festival of Trees, a Lower Cape Fear Hospice fundraiser. Last year, school fifth graders decorated their tree with ornaments made from plastics and other recycled materials found on the island. Both years, trees have been donated by garden club member Linda Brown.
"The ornaments are so adorable," said Brown, member of hospice's board of trustees. "Last year's decorations were awesome."
"The Rooty Rascals tree," she said, "does provide solace and comfort for the families who come."
The Harbor Island Garden Club has sponsored the Rooty Rascals at Wrightsville Beach Elementary School since 1984. The year-long program teaches fifth graders about native plants, gardening, birding, butterflies and other flora and fauna. It promotes environmental and ecological awareness through local field trips, outings, talks, and hand-on projects. The school's marine science coordinator and counselor, Cissie Brooks, works closely with the school program that meets regularly each month.
"The Rooty Rascals has evolved from a gardening program to an environmental awareness group with a focus on environmental issues and education," said Brooks.
When the ornament express finally departed the school's makeshift North Pole, the Rooty Rascals reveled in their hospice tree ornaments bound for stardom at this year's Festival of Trees.
"It feels like the spirit of Christmas, happiness and joy," said Jassiah Gardner, 10.
"We want people to live. We want to brighten up their day."