Mel Beasley
Intern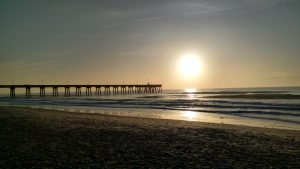 With the sun barely peeking above the ocean's horizon and the temperature right at 45 degrees, over 1,000 people flocked to Wrightsville Beach to attend the Easter Sunrise Service delivered by Reverend Christina Turner of Wrightsville United Methodist Church at 6:30 this morning near beach access 19, Oxford St.
The rising sun acted as a symbolic backdrop alongside Turner's Easter sermon about Christ's resurrection—the first Sunrise Service that she had ever preached, which she said made the event an especially exciting day for her.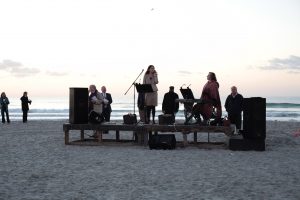 "A mentor once told me that I should always be a little nervous when preaching or I'm not taking it seriously enough," Turner said.
Turner has been a provisional elder since the summer of 2016 at the Wrightsville United Methodist Church, and she was recently approved to be fully ordained as of June of this year.
One of her goals, she said, is to improve equality and open-mindedness among all people groups and ideologies, and she hopes to encourage women's involvement in leadership positions within the church.
"One of the reasons I love the Easter story is that Mary Magdalene was the first Easter Sunday preacher," said Turner. "When she saw the Lord, she went and told the disciples."
Some locals who attended the event said they have been coming to the beach services for years, and they insisted that they would attend no matter the weather conditions.  
"We like to sit on the edge so we can see the sun rising and the service at the same time," said Jennifer Young, a resident of Wrightsville Beach.
Five other churches in the area helped put on the beach service which involved opening worship music, prayer and a sermon. The other churches included St. Andrews On-the-Sound Episcopal Church, Wrightsville Beach Baptists Church, St. Therese Catholic Church, Little Chapel on the Boardwalk and Pilgrim Rest Missionary.