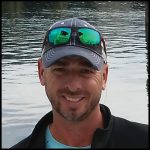 By Captain Jesse Gawlik
Wrightsville Beach Fishing Charters Ocean Stinger
Nearshore: The bluefish, bonito and flase Albacore have started to show up slowly along the beach front. As the water temps continue to rise the bluefish will start to school up. They will be caught along the beach front out to 5 miles. The best way to catch blue fish is with the same rig used for Spanish Mackerel. Clark Spoon tied to a 40ft 25 lbs floro leader ran behind a #1 Planner. There have been some reports of Bonito being caught in 25ft of water along the beach front. I use the same rig to catch bonito and bluefish. Black bass have been caught around the AR's in the 10 mile range off Masonboro Inlet. Best bait has been cut mullet.
Offshore: King Mackerel bite is picking up in the 20-30 mile mark. Water temps have been slowly on the rise. The water temps at 25 mile mark northeast of Masonboro Inlet is 64 degrees. We are using blue/white ilander lures rigged with medium ballyhoo on the inside out riggers and red/white ilanders rigged with small ballyhoo on the outside outrigger. We are also running 2 skirt rigs on flat lines on the edge of the prop wash 50ft back. The King Mackerel bite has been best in the 85-120ft of water. There has been a lot of bait in this water depth the last 7 days. We are also Pulling white/sliver Drone spoons on #6 or #8 planners with 50 ft 100 lbs floro/mono leaders.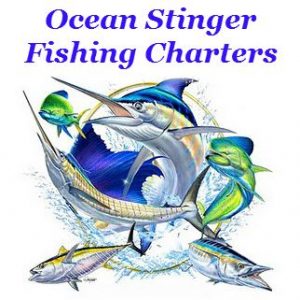 Gulfstream: If we have a good weather window, the wahoo and yellowfin tuna bite is picking up along Swansboro Hole and points south in 25 – 35 fathoms. We have had really good luck in the 55 mile range for both Wahoo and Yellowfin. Best baits for Wahoo has been Pink/white, Black/purple Ilanders rigged with large ballyhoo are producing nice fish. Must Wahoo have been caught on #3 planner early in the morning and #8 planner the afternoon. The Black Tuna bite has been steady in 20 – 30 fathoms. Pulling small skirt rigs. Like Fathom half pints or Sea Vixens. The best colors have been pink/white, blue/white, red/white on outriggers has been working best. These lures should be set in the choppy water 100 ft – 200 ft back.
Capt. Jesse Gawlik of Ocean Stinger Fishing Charters operates out of the Bridge Tender Marina at 1418 Airlie Rd. in Wilmington, just before the Wrightsville Beach drawbridge.
Contact him at  910-777-9734 or [email protected]