Wrightsville Beach resident Nancy Faye Craig is searching for her missing cat, which has been lost since last Wednesday.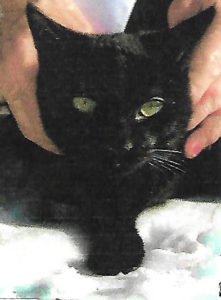 Craig said she last saw Sammy, Jr., or "SJ," at 5 p.m. Wednesday, Oct. 3 outside her Channel Walk Shoreline home. He is solid black and wears a grey collar, though Craig suspects the collar may be gone at this point. There's been no sighting since last Wednesday, though the Wrightsville Beach Park Ranger has been looking.
SJ is a skittish cat that normally doesn't go outside, Craig said. He has an identity chip that can identify him if he is found.
Please contact Nancy Faye Craig at (910) 256-2048 if anyone has seen or has information about SJ's whereabouts.