Raleigh, NC – State market data released Friday, December 16 indicate Federal Reserve interest rate increases may be slowing job growth in North Carolina and is finally putting the breaks on soaring consumer prices.  
 After peaking in June, the pace of inflation in the South has now fallen for 5 consecutive months. While inflation has fallen by more than 2 percentage points from its high to an annual rate of 7.6 percent, it remains more than three times the Federal Reserve's target and Fed Chair Jerome Powell has clearly signaled more rate increases will likely be forthcoming to further restrain price growth. 
 Its too soon to trace the cause to rising interest rates, but North Carolina employment growth has slowed in recent months, with November only adding 5,000 net jobs, down from 33,000 in July. While growth has slowed, monthly average job creation is still running ahead of last year. North Carolina has added a net average of just over 16,500 jobs a month this year, roughly 3000 more per month than in 2021.  
 While job growth has slowed, North Carolina employers are still on the hunt for workers. The most recent data we have showed employers had around 360,000 jobs on offer in October which is higher than the same month last year. 
 "Thus far the economic fallout of Fed policy to fight inflation has been largely contained to worker with the best ability to cope with a layoff. Unlike the Great Recession, the first impacts have been in the tech sector where several major companies announced layoffs in recent months. Many of the people who have lost their jobs earned good wages and have plenty of employment opportunities, so are best able to weather being out of work for a little while," said Patrick McHugh, the research manager with the North Carolina Budget and Tax Center. "The real question is what 2023 will bring for low and moderate-income families and workers. If the economy continues to cool, it won't just be well-paid computer programmers who could see their jobs disappear. If we end up in a recession, state and federal leaders are going to have to step in to help or people with the least means will pay the greatest price to as the Fed works to get prices under control.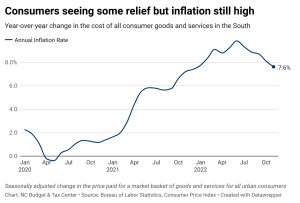 Source: NC Budget and Tax Center