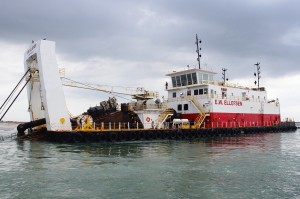 On Monday, May 19, Wrightsville Beach Storm Damage Reduction project dredge contractor Weeks Marine and the United States Army Corps of Engineers assessed that the project would not be complete by the original estimated date of May 31.
In an email to Wrightsville Beach town manager Tim Owens and other officials on May 19, USACE biologist Jeff Richter stated a 13-day extension of the sea turtle environmental window was requested after already receiving an extension until May 31. That new extension would set the end date for the project on June 13.
Previously Weeks Marine had mentioned a possible completion date prior to the start of Memorial Day weekend on Friday, May 23.
Richter stated Weeks Marine will continue to monitor sea turtle impacts and the impacts to the skimmers and oystercatchers nesting on the south end of Wrightsville Beach. There has been no sea turtle activity in the project work area as of May 19, he stated and the shorebird monitors will continue their twice-daily surveys of the south end.
When the project is complete and the pipeline is being removed from the south end bird nesting area, Richter stated the North Carolina Wildlife Resource Commission would assist in preventing adverse impacts to birds.
Wrightsville Beach town manager Tim Owens said the contractor was about five days behind the original schedule. Although he did not know the exact cause of the delay, Owens said it most likely had to do with the larger amount of sand needed on the beach than what was anticipated.
If the extension is granted Owens said it would not change the way the town has handled beach traffic interacting with the project.
"It is something that has to happen and folks will have to live with it unfortunately," Owens said by phone on Tuesday, May 20. "They work in 1,000-foot increments so if someone happens to have a house in the middle of it they can walk one way or the other. It is a very important project obviously and we need to get it done before hurricane season."
With the Memorial Day weekend approaching the project work area for Weeks Marine is on schedule be in one of the busiest areas of the beach strand around Johnnie Mercer's Pier.
Wrightsville Beach Ocean Rescue captain Jeremy Owens said the full team of lifeguards would be on duty for the weekend but that there have not been many issues with keeping beachgoers out of the work area.
"We have all our stands out and ready to go and it will be operations as usual for us," Owens said by phone on Tuesday, May 20. "The dredge company has done an excellent job of keeping people out of that area so we really have not had any issues with that."