Seeking shelter and safety from what was then a projected Category 4 storm in Hurricane Florence, many Wrightsville Beach residents traveled inland to Charlotte, Raleigh and other locations west of the coast.
However, while the Category 1 Hurricane Florence didn't pack the punch from winds that forecasters feared, it did dump several inches of rain across the region, cutting off most roadways and isolating the Cape Fear Region.
As displaced residents were desperate to make a return to Wilmington, one local business owner went to extraordinary measures to bring back his co-owner, who is also his fiance and mother of two of his children.
"I needed her," said Jimmy Gilleece, owner of Jimmy's at Red Dogs, a bar located at 5A North Lumina Avenue.
After spending four days in Charlotte with Gilleece's sister, Keaton Cline herself was desperate to get herself, her two-year-old son Caison, her one-month-old daughter Tinsley and her dog Kruiser back to Wilmington. On Sunday morning at 5 a.m., she packed up her stuff, her kids and the dog and began the four-and-a-half hour drive back to Wilmington.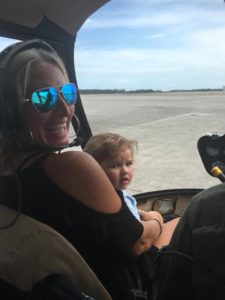 After enduring the harrowing experience of driving her children through driving winds and rains, Cline soon found herself at the roadblock officials set up at the intersection of Highway 74/76 and I-95.
"The back roads had already started flooding. It was raining hard. It was the scariest thing I've ever done," Cline said. "I believe if we had made it there 30 minutes prior, we could have made it before the barricades went up."
She was fortunate to have local friend who had also evacuated to the region, Penny DeLoreto. Together, they made their way to Myrtle Beach, the only place they could find lodging from the storm. But while now closer, the washed out roads made the distance to Wilmington seem as far as ever.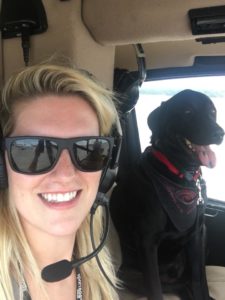 "I was so upset, I was going crazy. I didn't know what to do.," she said. "I have never felt like this in my entire life."
It was then that Gilleece enacted a desperate plan to get Cline back to Wilmington: They would fly in by helicopter. On Monday afternoon, Cline, DeLoreto, the two children and Kruiser piled into a helicopter operated by High Tide Helicopters, based out of Oak Island, and soon found themselves on an adventurous journey that proved as eye-opening as it was exhilarating.
"It was super cool," said Cline, describing that the helicopter traveled about 400 feet in the air at speeds of 110 mph. "It was a lot easier than I thought. There were a few wind gusts here and there that made my heart drop, but otherwise, it was a lot easier than I thought."
Once airborne, Cline, DeLoreto and the family were shocked at what they saw, getting an eagle eye's view of the flooding and downed trees that littered the scenery.
"There was not a talking. We were taking it all in. We saw everything," said DeLoreto, who held Caison in her arms during the flight. "It was awesome, but at the same time, you got to see the devastation first hand."
The children and Kruiser behaved splendidly during the 45 minute flight, Cline reported.
After returning on Monday afternoon, Cline and other members of the Jimmy's at Red Dogs staff spent all of Tuesday and Wednesday preparing the bar to be reopened on Thursday. Cline is the bar's electronics and computer expert, making her presence invaluable, Gilleece said.
And while relieved to be home, Cline said she had great sympathy for those still caught behind the flood waters.
"I can't imagine the heartbreak for people who are still dealing with it and I am very thankful I had the opportunity to get back. "It felt so much better to have the kids back in their own house."